…As governor gives December date to clear LG retirees' arrears
Some pensioners in Edo State have saluted Governor Godwin Obaseki's courageous move to clear all the pension arrears he inherited.
The commendations are coming as screening and payment of state and local government retirees progress across the state.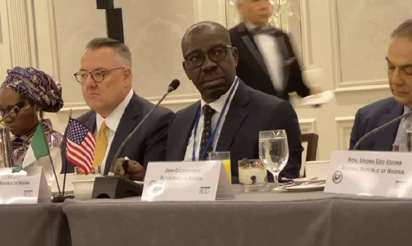 Mrs Osakue Ebosele, a retiree, said: "We senior citizens of Edo State are praying for Governor Godwin Obaseki for giving our welfare priority attention. Since I left service, this is the first administration that has not subjected us to embarrassing treatments. We no longer protest for our entitlements to be paid. He is even paying pension arrears he inherited, some dating back to the 1990s and early 2000."
For Elder Paul Owamagbe, Obaseki deserves the prayers and blessings of Edo elders.
He said: "We are proud to have a son like him as the Governor of this state. Edo people respect their elders and our governor has demonstrated this in many ways than one.
"He has also demonstrated that he is indeed an expert at managing resources. In the past, we used to hear that Edo State was a poor state and did not have money to pay her pensioners. We used to protest the non-payment of our entitlements. But all that are in the past now.
"We have realised that what we lacked was the right leaders who are sound enough to harness our resources and prioritise expenditure. I can say this because some of my friends who are retirees in other states with more oil money are still being owed. They are not lucky enough to have a finance expert as Obaseki and that is why they are still suffering. We are very lucky with Obaseki as governor in Edo, I must say.
Another pensioner who would not want his name in print, said "we must commend governor Obaseki for giving us the respect we deserve. All my pension arrears have been paid and my monthly benefit gets to my account before the end of the month. It has never been this good."
As state government retirees are attesting to the reform in the management of pension issues in Edo State, the governor has assured that all pending payments to local government pensioners will be resolved before the end of the year.
Commissioner for Local Government and Community Affairs, Hon. Jimoh Ijegbai assured on Friday that physical screening which took place last week, will be followed by online screening of local government pensioners in the coming days to generate new data for the pensioners for payments to begin.
Recall that the state government last week, announced plans to commence the screening of Batch 46 pensioners for payment.
The exercise according to the Permanent Secretary/ Chairman, Edo State Pension Bureau, I. D. S. Juwobor, is in continuation of the on-going payment of pension arrears for state government pensioners.
In a statement issued on Wednesday in Benin City, the Pension Bureau said the screening exercise will take place on Wednesday October 17 and Thursday 18, at Imaguero Hall, in Benin City.
"All pensioners in batch 46 are hereby invited to present themselves for physical and documentary verification at the Imaguero Hall, Benin City on Wednesday 17th and Thursday 18thOctober, 2018 at 9.00am each day," the statement urged.
"This announcement also serves as a notice to pensioners in batches 37, 38, 39, 40, 41, 42, 43, 44 and 45 who failed to participate in the previous verification exercises to take advantage of the scheduled forthcoming screening exercise alongside pensioners in batch46," Juwobor said.
He added: "State Government Pensioners in batch 46 and the spill over batches of 37-45 are advised to check the list of pensioners scheduled for the screening on the notice board in the office of the Head of Service on Monday 15 andTuesday 16, October 2018.
"In furtherance of this, affected pensioners are advised to come to the venue of the verification exercise with the following documents on the scheduled dates of 17th and 18th October, 2018:Pension Authority; Retirement Letter; Letter of First Appointment; Pension Identity Card; Biometric Slip; and Bank details including bank name and Account Number."