Assures Nigerians of victory in 2019
Protesters mentally unstable, need psychiatric test — Aregbesola
By Dirisu Yakubu & John
The Peoples Democratic Party, PDP, yesterday described as dastardly, unwarranted and unprovoked,  the alleged attack on its leaders including national chairman, Prince Uche Secondus, Senate President, Bukola Saraki, Ekiti state governor, Ayodele Fayose and others while on a peaceful protest to Force headquarters and the Independent National Electoral Commission, INEC, in Abuja over the recently concluded Osun election.
The party however said that no amount of attacks, aggression or acts of intimidation will deter it from confronting and dismantling the ruling All Progressives Congress, APC, and coast to victory in 2019.
In a statement issued by the party's spokesman, Kola Ologbondiyan, the PDP expressed shock at the alleged police action even as it called on well-meaning Nigerians to take note of the incident.
"The whole world was shocked when the Police physically assaulted, fired tear gas cannisters and violently dispersed our party leaders who were on peaceful protest to the Force Headquarters, Abuja, over the use of police by the APC to rig elections,  particularly the September 22, 2018 Osun state governorship election.
"Acting on 'orders from above,' the Police assaulted our elected leaders, including our national chairman, Prince Uche Secondus, Senate President Bukola Saraki, Ekiti Governor, Chief Ayo Fayose, our Presidential aspirants, Senator Rabiu Kwankwaso, Bar. Kabiru Tanimu, Mallam Sule Lamido, among others.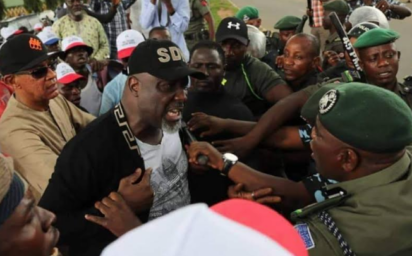 "This unwarranted attack has left no one in doubt that our Police has finally been turned into a militant wing of the APC, with direct orders to use force to repress opposition and turn our nation into a one party state.
"It has also shown that the Police, under President Muhammadu Buhari administration, has officially declared war on the opposition and there is no way our safety is guaranteed under the current police leadership.
"If the Police, which ought to protect the people, the law and the democratic process, could show such violent aggression on notable leaders, then it can no longer be trusted with the welfare and safety of regular citizens.
"It is completely reprehensible that the same APC leaders, Including President Buhari, who were allowed to freely hold protests under the PDP administration, could now turn around to approve police brutality and aggression against the opposition," the statement read in part.
The party also added that "the essence of such attacks is to instil fear and siege mentality on the people so as to cow them to submission ahead of the 2019 general election."
Earlier at the INEC headquarters, Presidential aspirant and governor of Sokoto state, Aminu Tambuwal said all the PDP leaders were demanding was credible elections that will stand the test of transparency.
"Our demand is simple. We demand for free, fair and credible elections throughout this country.  Chairman of INEC, before this temporary assignment, you had a history and you have a record. Don't allow anybody no matter how high to use you to undermine the will of Nigerians.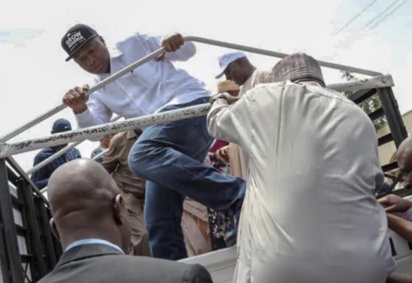 "You cannot suppress us, you cannot intimidate us. Elections in Nigeria must be held freely and fairly, and whoever wins should be given the mandate. That is what we want and we shall take nothing less," he said.
On his part, Secondus warned the INEC boss against any attempt to manipulate the electoral process, stressing that Nigerians will resist every form of harassment and intimidation.
"The country is sleeping on a keg of gun powder and  you know it. If you feel that Nigerians are not aware of the activities of INEC and police, you are deceiving yourselves. You are pushing Nigerians to the wall and when you push them to the wall, there would be resistance. We hope we will not get there, but this will serve as a notice.
"We demand that INEC Chairman should resign, Amina Zakariyau (Commission's Director of Operations) should resign. She is the manipulator of all elections.
Photos: Saraki, others teargassed during protest in Abuja
Also speaking, Saraki said Nigerians would not accept election results that fail the credibility test.
"Enough is enough of election that are not credible. Enough is enough of impunity. Enough is enough of harassment. INEC, you met a standard, don't take us back," he stressed.
Responding on behalf of the commission, INEC National Commissioner on Legal Matters, May Agbamuche- Mbu thanked the protesters, promising that the umpire would deliver on its mandate come 2019.
"INEC is up to this job. We are all here in INEC as professionals and not politicians. We are going to do our best come 2019.I must say we are a team and decisions are made by the commission and not by any individual. All your comments have been noted and it will be passed to the chairman and the entire commission," he pledged.