LAGOS—THE Independent National Electoral Commission, INEC, in Lagos State said 6, 609, 115 residents were eligible to vote in the 2019 general elections in the state.
The Resident Electoral Commissioner, REC, Mr. Sam Olumekun, disclosed this at a workshop on Lagos State Election Security Strategic Plan for 2019 Elections.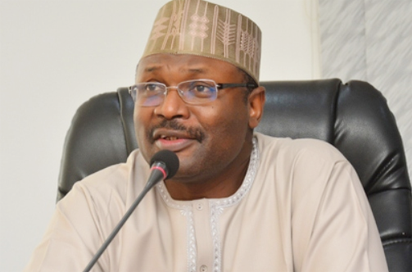 The News Agency of Nigeria, NAN, reports that the workshop was organised by Nigeria Policing Programme, NPP, in collaboration with INEC in Lagos State.
The Administrative Secretary of the commission, Prince Adelani Asade, delivered Olumekun's speech at the workshop.
Lagos state has 245 Registration Areas (Wards), 8,462 polling units, and 3669 voting points across the 20 Local Governments of the state and  Olumekun agreed  that  security is key to holding a successful election.
National Assembly: Proposal for Sergeant at Arms to bear arms moved
Olumekun said: "6, 609, 115 eligible Nigerians registered to vote during the 2019 general elections in the state.
"I am profoundly grateful to NPP for organising this very important and timely workshop on elections security considering the role of good security structure in the conducting a peaceful and successful general elections in 2019.
"It is crucial to say that with 91 political parties and about 74 million voters geared to take informed decision and action at the general elections in 2019, the security of election officials, materials, and the electorate is of utmost importance to the commission.
"Indeed, security is the key to the conduct of credible elections. INEC in Lagos is truly proud of partnering with NPP at this most auspicious time in the electoral cycle."
The INEC commissioner commended the NPP and hoped that the workshop would give the commission the opportunity to review, reflect, brainstorm, and re-engineer its security structure and strategy.
2019 Elections: Win your constituencies, Secondus tasks PDP's BoT
In his goodwill message, the representative of NPP, Mr Emeka Ukaotu said that INEC would need to develop its election security management plan.
According to him, some factors  needed to be considered  by INEC in developing the plan. These  include relevant intelligence and information about locations and assessment of vulnerability.
Subscribe for latest Videos