By Dayo Johnson Akure
LEADERS  of the Peoples Democratic Party (PDP) in Odigbo Council Area of Ondo State weekend kicked against the emergence Yomi Akinfenwa as the candidate for Odigbo/Ileoluji/Okeigbo federal constituency.
Strike: We can't be intimidated by FG's No work, no pay threat – COEASU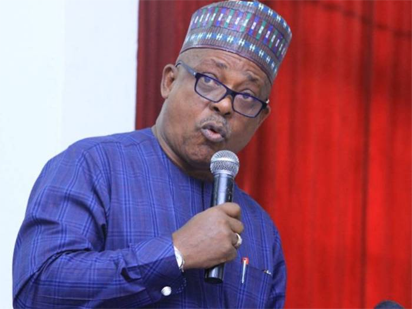 According to them the party primary where he emerged did not take place within the federal constituency and as such breached the constitution of the party.
Ondo PDP candidate vows to resist substitution of his name 
The protesters who were armed with various placards blocked the popular Akure/Ondo road and called on the party national chairman Uche Secondus to wade into the dispute before it cost them the seat.
Led by the Chairman of the party in Odigbo Local Government, Alhaji Rasheed Adebayo and other members of the executive, the party members said the emergence of Akinfenwa breached the zoning arrangement of the party in the federal constituency.
A letter addressed to the National Chairman, the party executive in the Local Government said that there is no way they could campaign in their constituency because they have been short-changed in the emergence of the candidates for the next year's election.
The letter titled "official protest against the purported PDP primary election in Odigbo/Ile-Oluji-Okeigbo Federal Constituency in favour of Yomi Akinfenwa" rejected the outcome of the primary.
Bayelsa: When defectors returned to their roots 
The party executives in the letter said "there was no election in the constituency on the 3rd of October. Therefore, something cannot be wished on nothing. We are surprised that the result of the election that did not take place in the first place was manufactured in favour of Akinfenwa.
"Though, we learnt that the minority from Ile-Oluji community did a fraudulent primary election where Akinfenwa was said to have been purportedly chosen as the candidate of PDP for the House of Representatives for our federal constituency, having 96 votes the while the other aspirant from Okeigbo, Alhaji Folagbade Gbemibade was recorded four.
"Our leaders should know that Odigbo Local Government and Okeigbo community a town under Ile Oluji/Okeigbo Local Government did not participate in that election which claimed to have produced Akinfenwa."
The leaders said out of the 21 political wards in the federal constituency, only Ile-Oluji with six wards participated in the election leaving out Odigbo with 11 wards and Okeigbo with four out of the contest.
"How could Senate, Reps and House of Assembly candidates come from Ile-Oluji alone with only six wards out of 21 wards in our Federal constituency?"