…as Tebite, Odebala, others as DESOPADEC, Revenue board members
By Festus Ahon
ASABA-DELTA State Governor, Senator Ifeanyi Okowa, weekend, swore-in two new Commissioners, four members of Delta State Oil Producing Areas Development Commission, DESOPADEC and one member into the State Board of Internal Revenue with a call on political appointees to always give their best in rendering services to Deltans.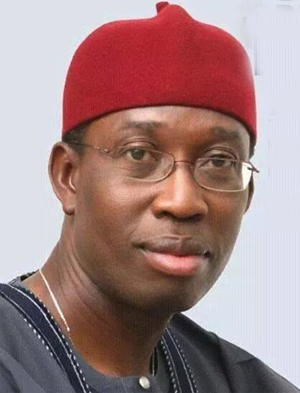 Those sworn-in are; Mr . Freeman O. Fregene and Mr. Julius Takeme as Commissioners, Olorogun Taleb Tebite, Chief Ejaife Odebala, Mr  Mofe Pira, as members of DESOPADEC board, Dr. Samuel Ochonogor Ossai as Executive Director of the oil commission, and Mr. Kelly Oghenekevwe who inaugurated as member of Delta State Internal Revenue Board.
Plots, counter-plots and the cold war between Oshiomhole and Obaseki
Okowa who spoke the during the ceremony said; "I expect that those appointed to serve in various capacities, should give their best to the entire State; in your various portfolios, we expect you to serve with integrity, devotion, commitment and accountability.
"It is our expectations that you will provide fresh ideas and new drive to support the government in consolidating our programmes and projects, while moving the politics of Delta State to a higher level of humility, justice and harmony as you serve our people.
"I want to remind the new appointees that your assignment will be especially challenging, as we seek to accomplish most of our projects and other commitments under a disciplined financial regime and urgency, especially as the seasons of expectations of our citizens, active politics and attendant elections begin to accelerate."
The Governor who spoke further, urged Deltans to active part in politics, calling on the people of the State to be conscious at all times, "stand for transparent, free and fair elections, where every vote counts".
Congratulating the appointees, Okowa told them to inject fresh and productive ideas into the Ministries, Commission or Board they find themselves, he said; "I urge all those sworn-in or inaugurated to bring with them the desirable winning attitude, ingenuity and deep insight in the handling of your various assignments; these are the only ways you can assist this administration leave a desired legacy of service in Delta State, while also endearing yourselves to our people.
"We are approaching the twilight of our first term in office; we have before us, many urgent challenges arising from the committed pursuit of our projects and programmes, including the inevitable pressures of politics as we are getting deep into the electioneering season; but, we need not be derailed in our commitment to our economic agenda".
Responding on behalf of the appointees, Chief Ejaife Odebala thanked Governor Okowa for the appointment, expressing delight that they have been chosen to be part of the team that was working to positively change the lives of Deltans.
Odebala assured that they would discharge their duties meritoriously to the benefits of the people.
Subscribe for latest Videos