President of the Nigeria Labour Congress (NLC), Comrade Ayuba Wabba has said Governor Ifeanyi Okowa of Delta has raised the bar in workers welfare.
Comrade Wabba who led top leadership of the NLC to pay courtesy call on Governor Okowa on Thursday in Asaba, observed, "you (Senator Okowa) as a governor is labour friendly, your open door policy is unparalleled and unprecedented."
"I believe that this is the whole essence of governance because,  governance is about the people; when we came into Delta State, we first tried to find out the conditions of the workers and pensioners and we have also put into account the development of the state and I must say that the news and the information we have gotten is very cheering ," the NLC President said, adding, "here, in Delta State, salaries are being paid as at when due, pensioners receive their pensions as at when due as well, and you have extended a lot of assistance to the local governments from the state coffers; this is really unprecedented and importantly I  was informed about the warm relationship between the state government and organized labour; there has been regular interaction between government and labour where the challenges of workers are brought up and solutions offered; this kind of relationship is one that other state governments need to emulate."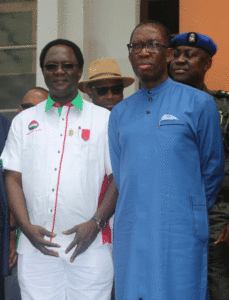 Comrade Wabba who commended Governor Okowa for the level of development in the state, added, "here, in this state (Delta) workers are treated well and they are happy and I want to assure you that we are not unmindful of the things that you are doing for labour and we have said this openly that where workers are appreciated and treated well, we will reciprocate and give support to the government and where workers have been turned to slaves and a lot of reasons given why workers issues cannot be attended to when we know for sure that there are clear provisions made to cater for such issues, we will also demonstrate our will to continue to engage the system."
https://www.vanguardngr.com/2018/10/public-workers-accuse-fg-of-plot-to-scuttle-minimum-wage/
"Today there is peace, stability and development in the state, all major events are brought to Delta State because of the fact that there is peace and stability in this state; we have realized that where there is leadership by excellence, the difference will be very clear, so, I want to thank you and encourage you to keep up the good work as those that are ready to support the minimum wage, we will support them as well," the NLC Boss who said they were in Asaba for the quadrennial delegate conference of the Union of Hotel and Personal Services Workers, told the governor.
Governor Okowa appealed to the organized labour at the occasion to ensure that the interest of lower level workers are well catered for while addressing the issues of minimum wage
He urged the organized labour to be in the forefront in driving the issue of good governance, democracy and elections, stating, "we should suggest ways to improve governance and build a better Nigeria, the organized labour can form a think tank that will render advise to government without blowing it up in the media."
"As a government, we are committed to the welfare of our workers , we appreciate the workers for the stability they brought to government during our trying times," Governor Okowa stated.