…Obi's nomination receives standing ovation at Igbo confab in USA
…Ikokwu cautions against Igbo/Yoruba divide over Atiku/Obi ticket
…As ADF lists reasons for Atiku/Obi support
By Chioma Gabriel, Clifford Ndujihe, Vincent Ujumadu, Dennis Agbo & Nwabueze Okonkwo
ONITSHA—AS part of their appreciation for picking a South Easterner as his running mate in the forthcoming 2019 presidential election, the youth wing of Ohanaeze Ndigbo yesterday said that it has concluded plans to carry  out a two million-man march to galvanize support for  Alhaji Atiku Abubakar,  the  presidential candidate of  Peoples Democratic Party, PDP   and his running mate, Peter Obi.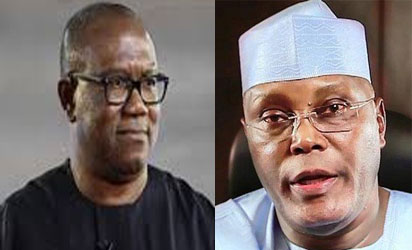 National President of Ohanaeze Ndigbo Youth Worldwide,  Dr. Arthur Obiorah, who disclosed this yesterday in Onitsha, Anambra State while speaking to newsmen, stated that Atiku's courage and wisdom for choosing an Igbo man in the person of Obi as his running mate was highly commendable and must be given a helping hand to succeed.
Obi "perfect choice" as Atiku's running mate – Group
He said: "The youth wing of Ohanaeze Ndigbo worldwide, the Igbo socio-cultural group, wishes to state its  desire to reciprocate the gesture of the PDP presidential candidate for courageously reposing his confidence in a vice presidential candidate from the South East zone.
"Choosing Obi has gone a long way to show that there is still hope in the Nigerian project which emphasizes unity. The two million-man march therefore is our deliberate effort to prove the popularity of Peter Obi and to express our confidence in the joint Atiku and Obi presidency come 2019 to rescue the nation from the current political, economic, social, security and infrastructural quagmires".
The  exercise, according to him, will hold simultaneously in Awka and Onitsha on November 18 this year and is expected to attract all Ohanaeze youths from the seven Igbo speaking states of Anambra, Imo, Enugu, Ebonyi, Abia, Delta and Rivers.
Obi's nomination receives standing ovation at Igbo confab in USA
Meanwhile, nomination of Obi as the vice presidential candidate of the Peoples Democratic Party, PDP, reportedly received a standing ovation during the recent conference of Anambra State    Association in the United States of America, ASA–USA, held in Chicago.
Anambra State president of Ohanaeze Ndigbo, Chief Damian Okeke, told reporters in Awka yesterday that Anambra people in the Americas were delighted at the choice of Obi, who as the governor of Anambra State for  eight years, collaborated well with ASA –USA in the execution of many projects in the state.
"It is heart-warming to state that in far away Chicago, USA, where I attended the just concluded ASA-USA annual conference, the news of the choice of Mr. Peter Obi as the Vice Presidential candidate was received with standing ovation and the World Igbo Congress has clearly declared support for the joint ticket," the Ohanaeze President said.
Fani-Kayode remains best running mate for Atiku – Yoruba Alliance Group
He further said: "The journey to 2019 has started and is gathering momentum. Ohanaeze Ndigbo has earlier made its stand clear in line with the South East summit held on 21′ May 2018 at Ekwueme Square in Awka to support every effort towards restructuring of the country to give every zone a sense of belonging and promote equity, justice and fairness that would give Ndigbo and every other part of the country a sense of belonging.
"In line with this, Ohanaeze Ndigbo resolved to support any political party and candidate with a manifesto of actualising  restructuring.
Ikokwu cautions against Igbo/Yoruba divide over Obi
In a related development, Second Republic politician and President of the Pan–Ndigbo Nigerian Forum, PNF, Chief Guy Ikokwu has  warned against turning Alhaji Atiku Abubakar's choice of the former Anambra State governor as his running mate into a Yoruba – Igbo or North – South diatribe.
He said: ''As an Igbo think tank organisation, may we appeal to our various social media contributors to refrain from turning the current event into a Yoruba – Igbo or North – South diatribe which would distract millions of our well meaning readers from focusing on the tremendous challenges in the next six months. Only the clueless protagonists can indulge in such whimsical idiocies while our nation is burning."
A founding member of the PDP, Ikokwu further noted: ''We have followed the development of the last few days with particular reference to the Atiku – Peter Obi PDP ticket for the Presidential election and find it difficult to understand the necessity for the hue and cry. We understand as a matter of fact that the last PDP Ahmed Makarfi exco had endorsed a committee report which zoned certain offices including the Vice Presidency to the South-East.
''The leadership of the South East PDP which includes the Governors should have quietly brainstormed for multiple eligible candidates which they should have forwarded to the presidential aspirant, who emerged at the Rivers State primaries.
ADF lists reasons for Atiku/Obi support
IGBO Socio-cultural group, Alaigbo Development Foundation, ADF, has stated that it was in support of the Alhaji Atiku Abubakar and Mr. Peter Obi joint Presidential ticket for the Peoples Democratic Party, PDP, because of Obi's penchant for industrial development.
The group said it was disposed to Obi as running mate because he would not sit as Vice President and allow the destruction of Igbo businessmen and their businesses.
It futher said that Obi's vast experiences in areas of investment, economic and social development sells him as veritable administrator.
In a press conference in Enugu, yesterday, President of ADF, Prof Uzodinma Nwala said " Mr Peter Obi is one of the most authentic, trusted and capable Igbo leaders through whom the continued membership of Alaigbo in the affairs of the Federal Republic of Nigeria can be negotiated."
It therefore appealed to the political class in Igbo land not to allow their political interests and ambitions override the fundamental interest of Ndigbo.
Obi represents what Nigeria truly needs in 2019 —ASETU
Also yesterday, a pan-Igbo socio-cultural group, Association of South East Town Unions, ASETU,  described the choice of Mr. Peter Obi as the Peoples Democratic Party, PDP, vice presidential candidate, as good for the nation.
The group explained that Obi's maturity, level headedness, integrity and experience, represents what Nigeria truly needs in this time of economic crisis given his sterling performance during his tenure as governor of Anambra State.
In a statement signed by National President of ASETU, Chief Emeka Diwe, the group said: "We are not also in doubt, and so we make bold to say, that in choosing Peter Obi, a new dawn of national rebirth has commenced  and we will lend our support to it, whole and entire."
Obi didn't deny London houses —Spokesman
Meantime, Spokesman to Mr. Peter Obi, Valentine Obienyem said his boss never at any time claimed that he had no house in London.
Obi's Special Adviser, Obienyem, made the clarification yesterday while reacting to   stories being spread online by Obi's detractors that he lied about owning houses in London.
Obienyem said: "During several media programmes, Mr. Peter Obi said Onitsha was the only place he owned a personal house in Nigeria.
"In an attempt to discredit him, some people are posting his London houses as the much-awaited evidence that he lied.
"First, let it be known that the issue of having a personal house only in Onitsha is a matter of choice."