By Vincent Ujumadu
AWKA—PRESIDENT Muhammadu Buhari has received kudos from Governor Willie Obiano of Anambra State for suspending the planned take off of Nigeria Air, describing the decision as courageous.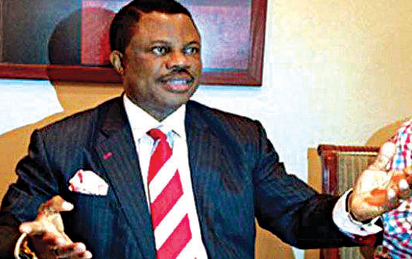 After an initial hype on the plan to establish the national carrier, the Minister of Aviation, Hadi Sirika recently stunned Nigerians with its suspension without disclosing the reason.
In a statement signed by the Anambra State Commissioner for Information and Public Enlightenment, Mr. Don Adinuba on behalf of the governor, Obiano observed that the Buhari administration did not allow ego to get in the way of the suspension of the proposed national carrier.
The governor said:  "Buhari did not behave like most African leaders, who think that policy review is a mark of weakness, even when the policy is asphyxiating. Rather, he behaved like what academic researchers would call an authentic leader, humble enough to admit policy deficiencies and even personal errors.
"The president was not held hostage by the fact that the government had launched the new carrier's livery and logo with fanfare in London in July, or by the consideration that a reasonable amount of money has been spent on feasibility studies and the road show in London.
"Such expenses belong to what accountants know as sunk or spent funds and it is not advisable to proceed with a project that cannot work, simply because the government wants to recover funds already spent on it".
Obiano said it would have been a contradiction for the Federal Government to make an investment in the airline at a time it was divesting its N12.4 billion shares in the Nigerian Security, Printing and Minting Company to enable the firm become more efficient and effective.
The governor urged the Federal Government to make an existing airline, Air Peace, which he said is Nigeria's biggest airline, the national carrier.
Air Peace, he noted, "has a larger fleet than the other indigenous airlines put  together", recalling that in February this year, it became the first indigenous carrier to acquire the wide-body 777-200 plane for its international operations, which would start in the last quarter of 2018.
"Apart from its 100% safety record, its ground and in-flight services are comparable to what passengers get from such world class airlines as British Airways, Delta Airline, Ethiopian Airlines, Singapore Airlines, Etihad, Emirates, Northwest, KLM, Air France, Lufthansa, etc.
"There is no reason not to make Air Peace Nigeria's flag carrier immediately because of thousands of jobs, economic and business opportunities it has created in the aviation value chain since 2013 when it was established," Obiano said.
The governor explained that contrary to the thinking of some people, a flag carrier does not have to be owned or promoted by the government, citing the example of the privately- owned British Airways, which serves as the UK  flag carrier.