…assures of adequate security for Oba Ewuare II's 2nd anniversary
The Edo State Governor, Mr. Godwin Obaseki, has said that the state government will not relent in its effort to flush out criminal elements from the state, assuring that security has been beefed up with relevant agencies to ensure the safety of life and property in the state.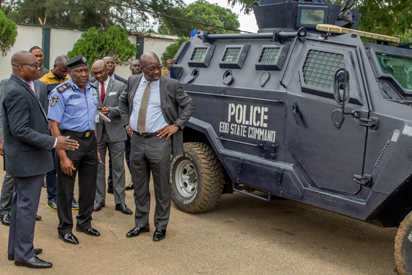 Governor Obaseki who said this after a meeting with heads of security agencies in the state, including the Commissioner of Police, Mr. Johnson Kokumo, and Head of the Department of State Security (DSS) in the state, noted that the state was firming up security to curb criminal activity across the state.
The security meeting followed the receipt of intelligence on plans by those who do not mean well for the state to disrupt the peace and scale up their nefarious activities as the year comes to an end.
"I have met with the Commissioner of Police and the DSS boss over the increased spate of cult activities in the state and we are deploying resources to ensure that those fuelling the crimes are brought to book. We are committed to a safe Edo State and will not tolerate any criminality," Obaseki said.
He assured that adequate security measures have been set up in preparation for the 2nd coronation anniversary of the Benin Monarch, His Royal Majesty, Omo N'Oba N' Edo, Uku Akpolo kpolo, Oba Ewuare II.
"I am very much committed to stemming the increased criminality perpetuated by cult groups and gangs in the state.
"As a state that is forward-looking and desirous to attract foreign investment, I want to reiterate that we have exited the days when cult activities held sway in society.
"We have beefed up measures to check the reported cases. The new security architecture is taking shape to ensure that the people are safe," he added.
He assured that preparations, especially those pertaining to security, are being finalised for the 2nd Coronation Anniversary of the Oba of Benin, noting that a combined team of security operatives will be deployed to ensure adequate security for the ceremony.