The Edo State Governor, Mr. Godwin Obaseki has launched the Edo Food and Agriculture Cluster, Ehor, (Edo-FAC), kick-starting a knowledge-driven food sufficiency plan, targeting over 3000 farmers in Ehor, Uhunmwode Local Government Area of the state, with the full complement of an agricultural training center in the area.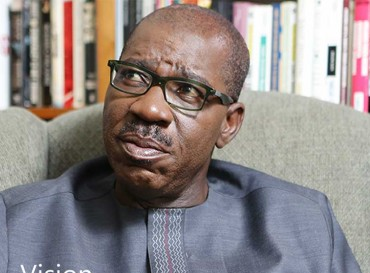 Speaking at the launch of Edo-FAC, in Ehor, the governor, who was represented by his Special Adviser on Political Matters, Chief Osaro Idah, said that the cluster will address the challenges faced by farmers in the area, noting that the state government is committed to exploiting agriculture and providing avenues to train farmers to boost their knowledge, improve their farm yields and enhance their livelihood. He added that Edo-FAC will employ 200 people, and is targeted at 3000 farmers in the area.
https://www.vanguardngr.com/2018/10/pipeline-explosion-50-burnt-to-death-in-aba/
According to him, the state government is keen on ensuring that farmers get the best of tools and training required to derive more gains from farming, on and off the farm, as the Universal Basic Education Commission (UBEC)'s Vocational Training Center in Ehor, has been repurposed to provide top-of-the-range training and extension services to farmers.
"This was designated as a vocational training center, but we are repurposing it to serve as a center to provide training to farmers on Good Agricultural Practices (GAP), so they can learn new methods for improving their yield on the farm, and also get access to information about what you need to do to reach more markets for your produce," he explained.
Senior Special Assistant to the Governor on Skills Development and Job Creation, Mrs. Ukinebo Dare, said that the Edo-FAC is a composite centre that has the full complement of an Entrepreneurship and Agribusiness Development Center, Food and Agricultural Products Center, Center for Agricultural Communications and Agronomy and Center for Agricultural Engineering and Fabrication.
https://www.vanguardngr.com/2018/10/obaseki-assures-safe-space-for-children-as-court-jails-paedophiles-in-edo/
She explained that a lot of thinking was put into repurposing the centre, noting that the various arms of Edo-FAC will be streamlined to provide adequate training to the over 3000 farmers in the area.
According to her, "What we have here is a one-stop shop for agricultural needs. We have far-reaching partnerships with players in the agricultural sector to provide the essential services needed to drive this center.
"As part of the cluster, we have a farmers' market, where farm produce will be traded. There is also the food processing center that will ensure that farmers produce do not go to waste, thereby minimising losses and creating more wealth in the community.
Subscribe for latest Videos