…urges more Edo youth to snatch training opportunities
The Edo State Governor, Mr Godwin Obaseki, has said that thousands of Edo people have benefited from the series of training programmes designed to equip Edo youth with in-demand Information and Communication Technology-based skills in a fast- changing world that places huge premium on solution offerings that rely on technology.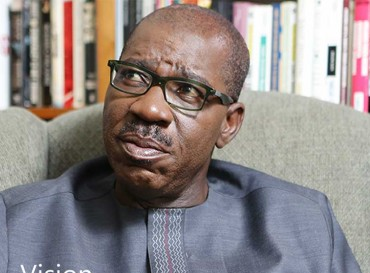 Obaseki who said this in commemoration of the World Development Information Day, marked on October 24, each year, explained that in less than two years into his administration, the state has successfully plugged into the global technology ecosystem, with thousands of Edo people making the desired impact and taking their share of the gains that abound.
The United Nations General Assembly explained that "Information and Communication Technologies have the potential to provide new solutions to development challenges, particularly in the context of globalisation, and can foster economic growth, competitiveness, access to information and knowledge, poverty eradication and social inclusion."
According to Obaseki, "World Development Information Day is a day for stakeholders in the information and communication sector to take stock of their activities and set new targets.
"I am delighted at the prospect of having millions of Edo people join the global army of techpreneurs through our empowerment initiatives at the Edo Innovation Hub."
He urged leaders across the world "to replicate the Edo Innovation Hub model which has set Edo State on the path to becoming the Silicon Valley in South-South Nigeria."
The Edo State Government-backed Edo Innovation Hub is a cluster for innovators and inventors in Benin City, and is priming youth to evolve and strengthen the technology ecosystem in the state.
The facility houses the South-South Innovation Hub ad has two halls, five training rooms, six fully-furnished co-working spaces, four rooms with a total of 100 computers, offices, conference rooms, outdoor workspaces, among others.
https://www.vanguardngr.com/2018/10/group-drumps-support-for-rufai-adeniyi/
Some of the trainings taking place at the hub are handled by partners such as Microsoft, Tech4Dev, LinkedIn, Curators University, Hotels.NG, Makers Academy, Pan Atlantic University University's Enterprise Development Centre, and Siemens' Impact Hub.
The UN said the World Development Information Day was established in 1972 to draw the attention of the world to development problems and the need to strengthen international cooperation to solve them.
"The Assembly deemed that improving the dissemination of information and the mobilisation of public opinion, particularly among young people, would lead to greater awareness of the problems of development, thus, promoting efforts in the sphere of international cooperation for development," it added.
https://www.vanguardngr.com/2018/10/fg-to-make-tourism-veritable-earner-for-nigeria-buhari/