…As they wear black arm bands for three days to mourn slain colleagues
By Luminous Jannamike
ABUJA – Nurses and midwives in Nigeria on Friday threatened to withdraw their services from the Northeastern part of the country over the recurrent attacks on health workers in the region by Boko Haram terrorists.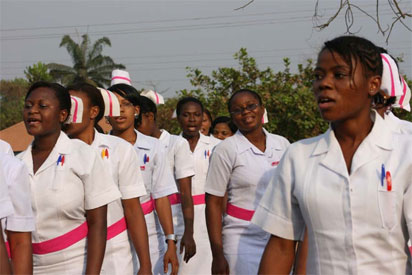 They issued the threat at a press briefing in Abuja under the auspices of the National Association of Nigerian Nurses and Midwives, NANNM.
Recall that a midwife, Saifura Khorsa, and another health worker, Hauwa Liman, were abducted and killed recently by the Al-Barnawi controlled Islamic State of West Africa Province (ISWAP), a breakaway faction of Boko Haram.
https://www.vanguardngr.com/2018/10/we-cant-pay-new-minimum-wage-govs/
Speaking on behalf of the leadership of NANNM, the association's President, Comrade Abdulrafiu Adeniji, said it was sad and unacceptable that the insurgents could make nurses and midwives in the country to pay the price of being sacrificed in the line of their duty.
He alleged that the Federal Government was handling the security of health workers in the Northeast region with kids glove and warned that if the government failed to rise to the occasion and tackle the delicate security situation in the region, the association would not hesitate to withdraw its members from there.
"If we watch what (security measures) the government is putting in place and have any cause to believe they are unsatisfactory, we would have no option but to withdraw nurses and midwives from the region," he said.
Meantime, Adeniji called on members of association to wear black arm bands for three days beginning from Saturday to Monday as a mark of mourning their slain colleagues
He also urged those in the Northeast to flow with the security alert in the region by making their services available only when they were guaranteed of the security of the lives.
He said: "The leadership of the association is hereby calling on all nurses and midwives to wear black bands for three days as mark of mourning our professional colleagues
"We call on members not to sacrifice their lives in the line of duty, because the the government seems not to be taking good care of their security.
"Therefore, while appealing to people who are still there to work under serious security watch, we advise those who are not in the Northeast not to flourish towards that region for now."
Adeniji further drew the attention of the public to the case of a member of the association, Mrs. Alice Loksha, who is still in the custody of the insurgents.
He appealed to President Muhammadu Buhari, his administration, and the international community to do everything possible to rescue her from captivity.
"We appeal to the Federal Government to provide special protection to the nurses and midwives and other professionals in the health sector as they have become victims of cross fire.
"We call for prayer and fasting to ensure the safe return of all our members who are presently in horrible situation of captivity and especially for Alice Loksha.
"We are aware that some Boko Haram members who were captured by the Nigerian Army were cared for by our colleagues and other medical and health services providers. So, we capitalise on this to call on Boko Haram to release our colleague, Mrs Alice Loksha, a wife and mother of two."
Nurses, midwives threaten to withdraw services in Northeast over B/H attacks
https://www.vanguardngr.com/2018/10/i-dont-think-atiku-can-defeat-buhari-no-he-cant-tony-momoh/