The past will play a key role in people's decision  — Gbolahan Ayodele, Banker
I believe Atiku Abubakar is capable of running a successful economy because he is an outstanding business man. His thoughts on tax and job creation would have a significant impact on the present situation. However, I don't think he can unseat President Buhari because the past will still play a key role in people's decision. Buhari still has a strong hold in the North, but other factors like who the East and West would vote for make it difficult.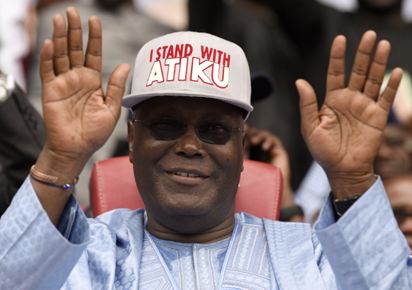 Nigerians will definitely vote President Buhari – Usman Kabiru, Banker
The honest truth is that in Kano, majority of the people wanted Kwankwaso as the PDP presidential candidate and I'm sure they would have voted him as president come 2019. But as we can see Atiku Abubakar has won the ticket and emerged the candidate that will represent PDP at the forthcoming elections. People will definitely vote president Buhari in 2019 because they do not trust Atiku.
Atiku Abubakar
lacks the structure   – Ogunshola Demola, Lawyer
My position has always been that Atiku is not the right man for the job. PDP made a mistake in fielding him. He does not have that structure unlike the likes of Tanbuwal, Saraki and Lamido, whose structure starts from the grassroots. As it stands, I have not seen any candidate that can give Buhari or APC a run for their money.
It's is the best decision made by the PDP – Leonard Chukwuma, Businessman
The emergence of Alhaji Atiku Abubakar, as the PDP Presidential flagbearer is the best decision ever made by the party since they relegated to opposition. This is because President Buhari's anti corruption war has taken over the minds of people. Atiku is a northerner and a Muslim, just like President Muhammad Buhari. He is also a man with wealth of experience in bureaucracy and democratic leadership, as opposed to the current President. This is not a campaign, but I'm optimistic that Atiku will be more accessible   and submissive to the will of the people.
"There is nothing wrong in challenging  the incumbent-
Dr. Ngozi Udengwu, Associate Dean Faculty of Arts, University of Nigeria Nsukka.
"I don't think the Nigeria problem is with the leaders alone but also the influence the led have on the leaders- the pressure the masses bring on the leader to do the wrong thing.
https://www.vanguardngr.com/2018/10/apc-accuses-obasanjo-of-lobbying-us-to-lift-atikus-entry-ban/
"There is nothing wrong in challenging  the incumbent. I was sorry Buhari came out to run as a democratic President. He was able to achieve  discipline in his first coming because he was a military leader but you don't use force now.
"I don't know if Atiku will be good as alternative until he goes there. Its not about the character of individual but his ability to move the people without antagonism because Nigerians are very lawless people."