*Atiku's alignment with ex-leaders, source of worry—Balarebe Musa
*Endorsement 'll move Nigeria forward — Clark
*Ex-President can't win election—Junaid Mohammed
By Emma Amaize, Soni Daniel, Peter Duru & Festus Ahon
NIGERIANS across the six geopolitical zones, yesterday, differed on what the endorsement of the presidential candidate of the Peoples Democratic Party, PDP, Alhaji Atiku Abubakar by former President Olusegun Obasanjo meant.
Obasanjo had while endorsing Atiku's presidential ambition, expressed confidence that the PDP candidate would perform better than the incumbent, President Muhammadu Buhari.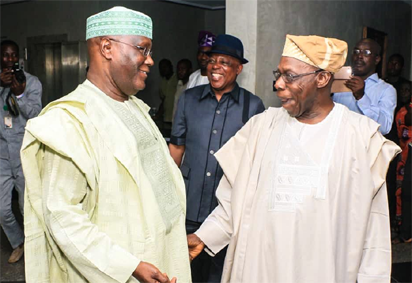 Those who spoke to Saturday Vanguard include a former governor of Kaduna State, Alhaji Balarabe Musa; elder statesman, Chief Edwin Clark; Second Republic lawmaker, Dr. Junaid Mohammed; National Chairman of Pan -Niger Delta Forum, PANDEF, Air Vice Marshal  Idongesit Nkanga, retd;  and Chief Strategist to the Delta State Government, Chief Paulinus Akpeki.
Others are former Political Adviser to ex-President Olusegun Obasanjo, Mr. Akin Osuntokun; ex-Minister of State for Education, Prof. Jerry Agada and National Coordinator, Niger Delta Peace Coalition, Zik Gbemre.
Atiku 'll not do better than Buhari—Balarebe Musa
Musa said: "Nigerians risk having a fascist government under Atiku because of his open alignment with former heads of state and retired generals, who have some questions to answer.
Ignore election noise, Buhari tells ministers
"That is why I am highly disappointed at the illusion by some Nigerians that Atiku is better than Buhari. There is absolutely no comparison between Buhari and Atiku.
"Former heads of state, retired generals and PDP are afraid of  Buhari's second term bid. These people and the PDP are mortally afraid that if Buhari returned, he would probe the criminal annulment of June 12 and wage a more ruthless war against corruption.
"They are clearly ganging up against Buhari not because they don't know that Atiku is no match to him but because they are aware that Atiku will not revisit their past misdeeds.
"Atiku should ask himself whether Obasanjo can easily forgive him and mobilise his part of the country for his victory in 2019.''
Endorsement'll move Nigeria forward—Clark
Clark said: "Obasanjo's endorsement of Atiku is indeed a  welcome development. It shows that Nigeria is a united country. It also implies that as human beings, we should forgive one another.  What Obasanjo he did is the right thing.
"It will no doubt move the country forward. Obasanjo is a man with a very strong voice. And if he endorsed Atiku, who was his Vice President with whom he had some differences, it is a very good development for the country.
" I congratulate  both of them for coming to work together in the best interest of Nigeria."
Obasanjo lacks electoral value—Junaid
On his part, Mohammed said: "Obasanjo does not deserve the kind of attention they have given him for the so-called forgiveness of Atiku because he does not have any electoral value and any record of winning elections. In 1999, he lost his ward, local government, and state. He only won the election because other people won their wards, local governments, and states.
"The idea of endorsing candidates by past leaders, the media and institutions in Nigeria does not always result in victory but boils down to the credibility and performance of the candidates.''
Obasanjo is a comedian—Gbemre
Gbemre said: "We cannot help but ask if the endorsement was from Obasanjo's heart.  Obasanjo was the person, who publicly tore his PDP card, denounced his membership and said he would remain a neutral elder statesman. Has forgotten what he said about Atiku in 2006? Obasanjo has become  a comedian.''
State of the nation informed Obasanjo's decision—Agada, former Minister
Also speaking, Agada said: "As for his endorsement by Chief Olusegun Obasanjo, I see nothing wrong in it. Obasanjo had endorsed aspirants in the past. He owes no apology to anybody. It is his preference. If he has endorsed Atiku it means he saw in him a value that indicated that he can be a good President for the country and nobody can question him.
"As far as I am concerned the allegation that it is a gang up is baseless.  Obasanjo endorsed President Buhari before the 2015 general election and it worked and nobody cried foul.
"Now that he endorsed Atiku they are describing it as a gang up. Why would people bother themselves about it? He has expressed his mind after looking at the situation in the country at the moment. I see nothing wrong with what he did.
"My belief is that Obasanjo has always worked hard for this country right from the time he served as a military Head of State and later a civilian."
Endorsement 'll save Nigeria from calamity—Osuntokun
Reacting to the development Osuntokun said: "The Buhari surrogates,  who have been frothing over the reunion of President Olusegun Obasanjo and President to be, Atiku  Abubakar are correct in the observation that this is an unusual development. And they only have their principal, President Muhammadu Buhari to thank for this positive turn of events. To put it mildly, these are desperate times in Nigeria and desperate problems readily provoke desperate measures.
"Confronted with the present danger that the Buhari presidency poses to Nigeria, the choice and course of action open to any responsible Nigerian statesman are clear.  And God, in his inimitable ways, has chosen Atiku Abubakar as the instrument of rescuing Nigeria from the dark and dangerous turn that the incumbent driver has taken the country to. It is perhaps for the task of the unprecedented challenge of this moment that God has been preparing Atiku, who like all mortals is not without his share of human imperfections. To err is human and to forgive is divine.  This cannon alone recommends and sanctions the reconciliation between Obasanjo and Atiku.''
Subscribe for latest Videos