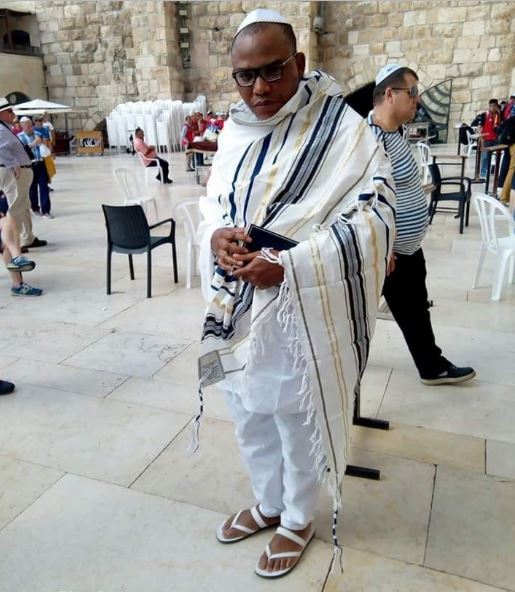 Nnamdi Kanu
Nnamdi Kanu, leader of the Indigenous People of Biafra (IPOB), has vowed not to return to the federal high court in Abuja where he was standing trial before he left the country.
The federal government had charged him with treason but Binta Nyako, a judge of the federal high court in Abuja, had granted him bail after 18 months in detention.
Kanu had flouted all the terms of the bail before the military invaded his Abia residence on September 14, 2017.
He fled afterwards and resurfaced in Jerusalem on Friday.
In a broadcast via Radio Biafra, Kanu boasted that the Nigerian court lacks the capacity to try him.
He said the judge who has asked his sureties to produce him should have asked the army why they invaded his residence.
"Nigerian court is a Kangaroo court. I did not jump bail, I left because the court failed to protect me," he said.
"I shall not be honouring the court. I cannot be tried by a court I do not recognise."
Meantime, Elliot Ugochukwu Ukoh, founder of ILT said Mazi Nnamdi Kanu called him Sunday morning and  briefed  him on goings on, including his travails of the past 13 months. He told me he called a few other persons as well.
According to him, "he thanked all and assured of his total commitment to the struggle for the freedom of his people.He said he has recovered fully and is now in good health. He promised that,  as already known by all and sundry, that he and his group remain completely apolitical.
He maintains that they have no interest whatsoever in partisan politics and pleads with politicians trading with his name and that of his organisation, to back off.
"He pointedly told me that they have no business whatsoever with both the APC  and the PDP.He insists he remains relentlessly apolitical and warns those hoping to hustle with his name to back down now."
Narrating how he escaped during the invasion, he said "Two jets were hovering over and they stormed the compound and I sustained several injuries and in the process of trying to defend me, 28 men fell,"
"The sole purpose of that evil dance was to kill me and members of my family. They didn't want me to go to Abuja because they didn't have any case against me. They were afraid they would be disgraced before the world. They decided to eliminate me instead. They know if I go to court, that very country will not be the same again.
https://newlive.vanguardngr.com/2018/10/delta-primaries-ex-speaker-drags-apc-inec-ogboru-to-court/
"I am Nnamdi Kanu, no mortal flesh can kill me. They have not given birth to that very person. Since they didn't want me to come to court, I shall come back to Biafra land. There is nobody who can accuse IPOB of engaging in any form of lawlessness. I am in Israel.
"This same court that granted me bail stood by and watched as the army disobeyed court order. The army in contempt of court court came to kill me. I was in my home preparing to go to Abuja for my case when they came to kill me.
They even killed Jack, our dog. They killed my cousin, Adaku and 28 others. The notion that I jumped bail is a fallacy, a lie and a deceit. It is untenable in law."
https://newlive.vanguardngr.com/2018/10/commander-tasks-troops-on-commitments-to-defeat-boko-haram/