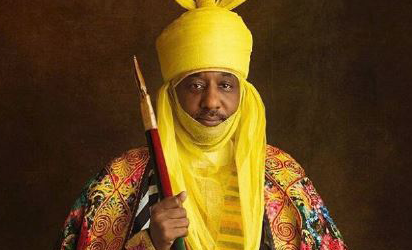 IBADAN—THE Emir of  Kano, Sanusi Lamido Sanusi II, has said except proactive steps are taken to change the current trend, Nigeria may still remain the poverty capital of the world for many years to come.
The former Governor of the Central Bank said this after his induction as an honorary member of the Sigma Club of the University of Ibadan.
His words: "If every country continues its present trajectory, by 2050, 80 per cent of all the poor people in the world will live on the African continent. But, that is not the frightening thing. One half of this 80 per cent will be in Nigeria and the Democratic Republic of Congo. Two countries will account for 40 per cent of all the poor people in the world and Nigeria will therefore remain the poverty capital of the world.
"This is a country that has produced many great people. This is a country that has boasted of best professors, greatest intellectuals, and the most educated people.
"In 1960, the per capital income in Nigeria was higher than what it was in South Korea, and China. My father was the first ambassador of Nigeria to China in 1972. In 1972, he had to go to Hong Kong every two weeks to buy essential commodities because they were not available in Beijing. He could not find milk, sugar and cornflakes in Beijing; he had to go to Hong Kong in 1972, not 100 years ago.
"In 1974, when Deng Xiaoping started opening up in China, there were 700 million Chinese living in extreme poverty. Today, that number is down to only 30 million people in one generation. In 1974, China had only 8million university graduates. Today, China has more than 300 million university graduates, more than the entire population of the United States of America. Yet, China did not have direct foreign investments; in fact China stopped it.
"We talk about miracles, ancient miracles. I don't like the word miracles because miracles are associated with angels with wings that you do not see, coming from the sky. The Chinese are human beings like us and they did it. "When we say miracle, it sounds like something supernatural that has some certain powers to it. Every time you think about it, the only deficit we have is a policy deficit.
"We have elections in 2019, I read the papers, I look at the television, and listen to the discussions, who is talking about education? Who is talking about nutrition? Who is talking about basic health? As a country, what are our priorities? We don't have enough money for education. We don't have enough money for health. We don't have enough money for nutrition. But we have N1trillion or N2trillion to spend on petroleum subsidies. Where is our sense of what is important, and where is our investment in the future?
"So, for all Nigerians, who care about this country, the real task before us is to know that we have 30 years on the outside in which we need to make sure that we do not become the poverty capital of the world, and slum of the world.
"The earlier we realise that countries like Taiwan, Hong Kong in China, Singapore and Israel have become what they have become, not because they have found oil or diamond or gold, but because they have realised the values of human beings. The earlier we begin to take the path that will change this very sad trajectory, the better for us.
"We should keep those numbers at the back of our minds because that is the future of our children and the future of our grandchildren. And this generation can take decisions that are necessary to make sure that crisis in the future is averted. I am sure everyone here is committed to this. I certainly will remain committed to it."
I hope we can all work together and build this country, and make it a country that we all know it can be. We know that Nigeria can be great. We all know it.
"All those seeking political office, we hope will begin to join us, and we will continue to urge those outside politics to exert the right pressure on those in government to give us these policies, these thinking because that is the future of this country.
"If you take Kano alone, today 58 per cent of all children under the age of five in Kano State suffer from chronic malnutrition. Out of that, 17 per cent has acute malnutrition. Globally, nine per cent is a crisis, but we have 17 per cent. Forty eight per cent of the children of all women of reproductive age suffer from anaemia, iron deficiency. We have almost four million children out of school. We have one of the highest infant mortality and maternal mortality rate in the country.
"These are the kinds of things that are not even featuring in political discourse. These are issues that confront us and these are the issues we must address to avert that future that has been so very tragically by Bill Gate and other economists.
"Within Africa, we are having countries that are becoming excellent examples of what we can do with just a little bit of good thinking, combined with the right values. Our people have the ability, they are resilient, had working and intelligence to do it."