By Luminous Jannamike
Nigeria Independence Day : President of the Christian Association of Nigeria, CAN, Revd Samson Ayokunle, has said the nation cannot say it is celebrating independence when Leah Sharibu and over 100 Chibok schoolgirls are held in captivity by insurgents because of their religious beliefs.
He said this in a statement titled: "Nigeria's Survival Tied to Justice, Fairness, and Righteousness" which was issued on Monday by his media aide, Pastor Bayo Oladeji, in Abuja.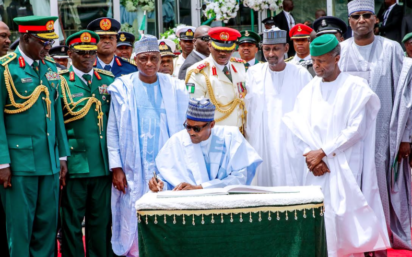 Ayokunle said the mounting evidences of bad leadership, economic hardships, and insecurity in the nation leave Nigerians with little to rejoice about.
He blamed injustice, sectionalism, and unrighteousness by political leaders for the poor state of affairs in the nation.
He said Nigerians must make a change in order to experience better days and guarantee the continued existence of the Nigeria Project.
The statement quoted CAN President as saying "Nigerians have been facing hardships that we would never imagine a couple of decades ago that it could happen in Nigeria. Today in the whole of Africa, it appears there is no other country where the shedding of blood of innocent citizens is occurring almost daily than in our country.
"We cannot say that we are celebrating Independence as a nation when that innocent schoolgirl, Leah Sharibu and over 100 Chibok schoolgirls are still in captivity because of their faith in Christ until the Federal Government has done everything to get them released from Islamic fanatics who are holding them captives.
"We don't only have the daily shedding of blood in our country, we also have kidnappers who take people into captivity and would only release them after payment of ransom.
"We also have economic challenges. Many adults like us who lived in this country in the better days of Nigeria continue to ask what really happened to bring us where we are today.
"Why are we in this embarrassing and unpleasant situation, the answer might be lack of justice, lack of fair play and lack of righteousness in our land.
"Nonetheless, I employ Nigerians, if we want to move forward, we need to know how to choose right. In the forthcoming election, Nigerians must be sensitive. 2019 election should not be about the party loyalty, but the integrity of the contestant. Nigerians should restrain from vote buying."
Ayokunle commended the President Muhammadu Buhari administration for making the fight against corruption a priority but cautioned against giving the anti-graft efforts of government a political colour.
"There is hardly any day on the pages of Newspapers without the issue of corruption. We thank God that this government has identify unrighteousness or corruption as a major impediment to growth in Nigeria. It is as well making little headway in tackling it.
"However it must be a wholesome tackling, which must never have political undertone. There is no party or sector where there are no corrupt people but they must be brought to justice without fear or favour.
"May we uphold the principles of Justice, fair play and righteousness in order to move the country forward."