By Favour Nnabugwu
Federal government is to commence payment of entitlement worth N22.6billion to all former staff of the defunct national carrier, Nigeria Airways, from Monday next week.
The Minister, Mrs. Zaibab Ahmed in a statement in Abuja yesterday, said the payment will last for seven days in three regions – Lagos, Kano and Enugu.
The exercise which she said will begin on Monday, October 22, 2018 at the designated centers except for the one in Enugu that will end on Thursday, October 18, 2018.
According to Ahmed through her Special Adviser on Media and Communications, Mr. Paul Abechi, said the payment exercises will hold in the three regions at Sky-Power Catering, Ikeja, Lagos; ABC (former Nigeria Airways Office), Bank Road, Kano; and Villa Toscana Hotel, at 1 Aguleri Street, Independent Layout, Enugu.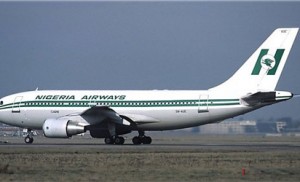 "Beneficiaries are expected to come along with the following documents to the centres: Letter of Appointment, Letter of Confirmation, Letter of Last Promotion, Letter of Retirement, NAL Identity Card, other means of Identification (National ID Card, International Passport, Driver's License, etc), Particulars of Bank Account: A cheque slip or statement of Bank Account, Letter of Administration to be presented by Next-of-Kin (NOKs) in the case of deceased beneficiaries."
The statement added, "Beneficiaries will be subjected to biometric data capture; beneficiaries should come along with copies of documents listed above for submission to the verification committee; beneficiaries are to be captured in an orderly manner, hence notice will be placed at the venue and specific date for capturing of each beneficiary will be indicated."\
https://www.vanguardngr.com/2018/09/gully-erosion-obaseki-partners-fg-world-bank-european-investment-bank-2/
Speaking in Abuja during her maiden meeting with the ex-workers of Nigeria Airways after resumption as Finance Minister, Ahmed said: "some pending fiscal issues in the aviation and education sectors were immediately brought to my attention. I took it as a challenge to quickly address key issues regarding the settlement of existing claims in both of these sectors. Consequent upon this, I am happy to inform you that Mr. President has graciously approved the sum of N22.68 billion and N20 billion to aviation and education sectors respectively" she said.
Subscribe for latest Videos