…names Sadiq Abubakar acting Executive Secretary
…Unclear if Buhari will agree with Yusuf's suspension
By Soni Daniel, Abuja
Apparently embarrassed by the litany of allegations of wrongdoing levelled against him by workers, the governing council of the National Health Insurance Scheme (NHIS) has suspended Usman Yusuf, the Executive Secretary of the scheme indefinitely and with immediate effect.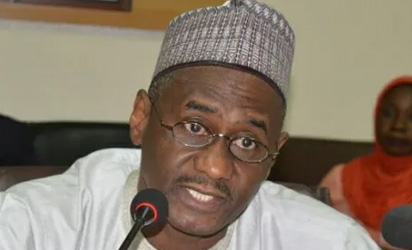 In his place, a senior official in the lack lustre agency, which has much money to play wth but little to show for it, Sadiq Abubakar, will act as Executive Secretary pending the probe of the activities of the suspended official.
The Chairman of the NHIS governing council, Ifenne Enyanatu, announced the decision of the council to axe the embattled ES after a two-day meeting of the board in Abuja.
The meeting, which resulted in suspension of Yusuf, was held behind closed doors and details of the discussion were not disclosed to journalists apart from the axing of the ES.
But Enyanatu disclosed that the decision to suspend Yusuf followed series of petitions over alleged infractions committed by him.
She announced that the council also resolved to raise an administrative panel of enquiry to probe the allegations levelled against Yusuf and establish the truth or otherwise of the claims.
https://www.vanguardngr.com/2018/09/apc-distributes-electoral-materials-for-presidential-primaries-to-lgs/
Enyanatu said, "The panel has three months to complete its assignment and report back to us", she noted.
According to her, the suspension of Yusuf by the board was to allow the panel an 'unfettered' space to do a thorough investigation.
"We consulted widely and got the approval of the Minister of Health before the suspension of Yusuf,'' she added.
It will be recalled that Mr Yusuf's tenure has been dogged by series of controversies especially relating to humongous financial expenditure and high handedness.
It was in the heat of the controversies last year that the Minister of Health, Prof Issac Adewole, axed him but President Mohammadu Buhari, who is from the same state with Yusuf curiously reinstated him without addressing the issues that led to his suspension by the health minister and the concerns raised by workers in the establishment.
It is not clear if President Buhari would not yet overrule the board and recall Yusuf this time around.
https://www.vanguardngr.com/2018/09/nigeria-air-not-suspended-for-lack-of-investors-sirika/