By Johnbosco Agbakwuru
….Rep. Linus Okorie,FCA.
As some Igbo leaders wait to meet with the Presidential candidate of Peoples Democratic Party, Alhaji Atiku Abubakar to deliberate on the PDP Vice Presidential slot ceded to one of their sons, His Excellency Gov. Peter Obi, more than enough attention is being paid by the wider Nigerian polity.
This is more so given the widely publicized press statement by the Ebonyi State governor and Chairman of the Southeast Governors Forum; Engr David Umahi withdrawing an earlier congratulatory message authored by His Chief Press Secretary; and complaining of non consultation with Igbo Leaders before Obi was named.
There has also been media reports of Chief Chris Uba, another chieftain of the PDP, expressing reservations with the appointment.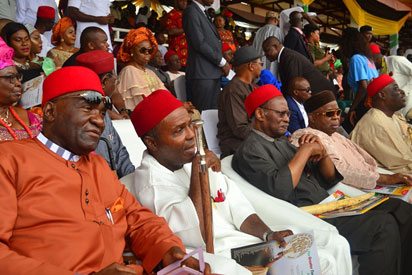 For a people seeking collective relevance and group identity in the emergent order; for a group traditionally known to be pro-PDP and who have continually voted PDP enbloc and are expected to do the same in 2019, the Ebonyi governor's concerns would seem to sit well with and address the sentiments of many who feel that Ndigbo must act collectively and negotiate for greater accommodation going into the 2019 polls.
Be that as it may, Ndigbo must create a balance between control and the more devastating perception of disunity. The impression already being created is that Ndigbo are unable to manage political successes and may not provide the pivotal bloc needed to drive the Atiku challenge for Presidency.
While this may not be correct, it behooves on the leaders of Ndigbo to avoid sending out wrong signals at a time unity and brotherhood would be their greatest strength.
https://www.vanguardngr.com/2018/10/ohanaeze-ndigbo-youths-commend-atiku-for-choosing-igbo-son-as-running-mate/
As they gather in ENUGU, therefore, Igbo Leaders are expected to handle their housekeeping matters with maturity, lay blames if they must, without doing anything to challenge or upset the nomination of Peter Obi, which is already in the public domain and receiving wide acclaim. They must come out of that conclave with a stamp of approval and encouragement to other political parties, including the APC, that may need Igbo votes to act similarly by choosing their Vice Presidential candidates from amongst Igbo sons and daughters.
They should indeed congratulate both their son who has been so honored, the PDP and its Presidential Candidate, Alh Atiku Abubakar, for the recognition and act of solidarity. Beyond that, they can then pursue a program of strategic engagement to address any lacuna in the nomination process to further cement the confidence between and amongst all parties involved.
To do otherwise would be class suicide and Ndigbo must not play into the hands of enemies at this critical time. Already, the Yorubas have indicated interest in the Atiku VP slot if Ndigbo are unable to manage that political windfall.
Let me conclude by appealing to the governors of the Southeast, Ohaneze leadership and indeed other elites to eschew divisive tendencies and rally round Peter Obi; projecting him properly as a worthy Igbo son who has the support and solidarity of his people; while inviting the APC and other political parties to pick their Vice Presidential Candidates from the Southeast; as an assurance of their commitment to support the emergence of a Nigerian President of Igbo extraction in 2023.
https://www.vanguardngr.com/2018/10/2019-peter-obi-as-atikus-running-mate-an-excellent-choice-founding-mothers-of-pdp/
Meanwhile, Ndigbo professionals, youths and women must rise up to ensure that their political leaders do not send them back into political oblivion now that the light seems to be streaming through from the end of tunnel.
…Rep. Linus Okorie,FCA represents Ohaozara/Onicha/Ivo Federal Constituency in the House of Representatives. He is also the Chairman, Committee on Agrcultural Colleges and Institutions.