By Ayo Onikoyi
The Musical "Fela and The Kalakuta Queens" is a demonstration of the rich cultural heritage that Nigeria is blessed with. The play, which tells the story of legendary musical icon and activist, Fela Anikulapo Kuti, reveals the sensational life of the Queens of Kalakuta and unmasks common misconceptions about them.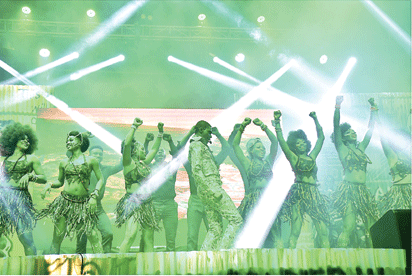 After an impressive show earlier in the year at the Ultra-modern Terra Kulture, the play sponsored by information and telecommunication company MTN, made its debut at the esteemed Africa Shrine on Sunday, October 14, 2018.
The ICT company in the last few years has supported causes that seek to promote the Nigerian cultural heritage. A recent example is the just concluded African Drum Festival in Ogun State which is geared towards promoting cultural orientation among Nigerians and also support talent and creativity.
The story of Fela and his Kalakuta Queens is a compelling musical about the honest and selfless love the icon had with his dancers (Queens) who left their homes to follow him, believing in his vision of building a better community through arts and music; an attribute we all need to imbibe in the Nigeria of today.
* Sponsors 6 new productions in 2018
With over 150 ethnic groups and 500 languages, arts and culture has always played a crucial role in defining our nation and uniting our people.
In furtherance of its proud tradition of supporting Nigerian arts and culture, MTN through the MTN Foundation, has announced its sponsorship of 6 critically acclaimed arts initiatives (5 musicals and a visual arts festival) due to be staged across the country in the 4th  quarter of the year.
They include musicals such as Fela and the Kalakuta Queens (produced by Bolanle Austen Peters), Legends (produced by Gbenga Yusuf and Ayo Ajayi); Our Son, the Minister (produced by Bikiya Graham-Douglas); Simply Poetry (by Dike Chukwumerije), Oba Esugbayi  (produced by Joseph Edgar) and the Life in My City Art Festival taking place in Enugu. The sponsorships are part of the Arts and Culture initiative of the MTN Foundation.
Recall that earlier in the year, the Foundation had also supported the public performance of world class theatre productions such as Saro and Wakaa the Musical, as well as the Eko Theatre Carnival.
Speaking at a press conference on October 18, 2018; Executive Secretary of the Foundation, Nonny Ugboma said "These productions represent the very best of Nigerian theatre, and we are humbled by their willingness to partner with us. Our sponsorships are guided by three key objectives – to re-tell Nigerian/African stories to our people; to promote our values and finally to empower skilled professionals to showcase their talent before a wider audience."
Fela and the Kalakuta Queens, which was the first of the productions, took place on October 14 as part of the Felabration  celebrations. Other support productions are slated to take place at various dates in October, November and December 2018.