Manchester United manager Jose Mourinho has mastered the art of the "double-edged compliment" as exemplified by his praise for Juventus, after Tuesday's 1-0 defeat by the Italians.
But it would have made uncomfortable listening for his club's executive vice-chairman Ed Woodward, after they lost the UEFA Champions League game at Old Trafford.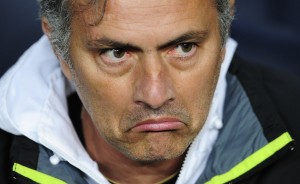 Manchester United were outclassed by the Serie A giants and Mourinho made no effort to sugar-coat that reality, but his comments were a thinly-veiled critique of the club's direction.
"Juventus are champions for seven years. I think seven years in a row. Two UEFA Champions League finals in the last four or five years and not happy with what they have. They want more, they want more," the former Inter Milan coach told reporters.
"They want more. They had (Gonzalo) Higuain and (Paulo) Dybala, they want more. They go for Ronaldo. They go for the best players in the world. Big club with a big past, with a big desire to have a big future," he said.
Mourinho conceded his team was "a bit" behind the level of Juventus and the elite.
"To go to the Juventus level? FC Barcelona level? Real Madrid level? How can you reach that level? Manchester City level? How can you reach this level?" he pondered.
Mourinho spent much of the pre-season criticising what he views as the club's lack of investment in the transfer market.
This was in spite of spending close to 400 million pounds ($519.32 million) since he arrived at Old Trafford in 2016.
Asked if Manchester United needed investment to reach the level of those clubs Mourinho replied bluntly "Yes".
The Portuguese's biggest frustration was the failure to bring in a major reinforcement in the centre of defence.
And it was perhaps no coincidence that he highlighted Juve's two centre-halves, Giorgio Chiellini and Leonardo Bonucci, for particular praise.
"Mr. Bonucci and Mr. Chiellini could go to Harvard University and give classes on how to be a central defender," he said.
Mourinho admitted when the draw was made he thought Manchester United would be battling with Valencia for runners-up spot behind Juventus.
https://www.vanguardngr.com/2018/10/chelsea-assistant-coach-charged-with-improper-conduct-after-melee/
"We knew it would be a fight with Valencia for second position," the Portuguese, whose side are now five points behind Juventus but two ahead of Valencia in Group H, said.
In spite of the defeat, Mourinho was satisfied with his side's performance.
"We played against one of the biggest candidates to win the UEFA Champions League and we did the possible to get a different result, especially because the way we played in the second half," he said.
"Juventus managed to hide the ball from us and frustrated our intention to be positive. In the second half, we were more aggressive and that's a big effort by the boys. We didn't really have attacking options on the bench to try."
Subscribe for latest Videos