Abuja – A 36-year-old Carpenter, Mr Samuel Shiekuma, on Tuesday, told the Presidential Panel on the reform of Special Anti Robbery Squad (SARS), that one Comfort Hembe was allegedly electrocuted by the men of SARS.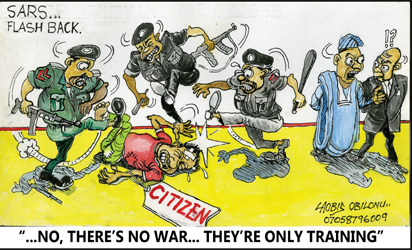 Shiekuma said this during a public hearing by SARS reform panel, chaired by the Executive Secretary of the National Human Rights Commission (NHRC) Mr Tony Ojukwu, in Abuja.
While giving his testimony, Shiekuma, told the panel that, they were informed by the medical doctor that the deceased died as a result of electric shock.
He informed the panel that the incidence occur on June 13, 2018 where seven men from Special Anti Robbery Squad (SARS) allegedly raided one Spy Annusa Guest House in Mabushi Village, Abuja.
He alleged that the officers searched all the rooms in the guest house where they discover the deceased in one of the room with her fiancée (Mr Dogo) and pushed her out of the room half naked.
He further testified that the SARS officials collected the mobile phone of the deceased because she refused to give them money.
" About seven (7) men of SARS came into the Guest House and knocked on her door when she came out they collected her handset and handcuff her because she resist arrest at the initial time.
" And when she started arguing with them one of the SARS men slapped her and pushed her to the gate that was electrified.
" And one of the men attempted to lift her up from the gate he discovered he felt the shock and immediately they realised that the deceased was electrocuted.
"Then, four out of seven officers ran away living three men behind,'' he alleged.
Shiekuma also told the panel that one of the SARS officers used stick to push the deceased out of the electric gate before they used Police Hilux to take her to Gwarimpa General Hospital, where she later died.
During cross examination by the police counsel, Mr James Idachaba, the witness told the panel that, his connection with the Guest House was that he was a vigilante member monitoring the area.
" Why we went to the Guest House 12.a.m was because I am part of the vigilante at Mabushi Village and the SARS men used to come to the place without the knowledge of the Divisional Police Officer in charge of Mabushi," he alleged.
" I also heard when the deceased was shouting that the gate was electrified and that they should not push her out of the gate,'' he said.
Shiekuma told the panel that he could not confirm if it was the SARS men that connected the electric wire in the gate.
However, after listening to the witness, the chairman of the Panel, Mr Tony Ojukwu, adjourned further hearing till Oct. 24. (NAN).
Subscribe for latest Videos