In the history of this rivalry, only three players have taken part in more El Clasico match-ups than these two superstars.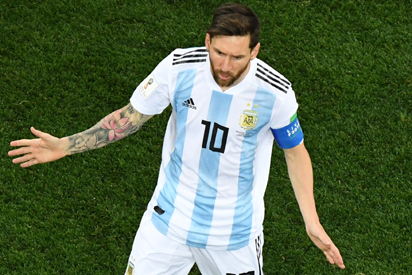 Barcelona and Real Madrid captains Lionel Messi and Sergio Ramos will shake hands on Sunday at the Camp Nou ahead of their 39th El Clasico appearances.
Looking at the all-time appearances list for this historic fixture, only Manuel Sanchís (with 43), Francisco Gento (42) and Xavi Hernandez (42) have taken part in more competitive El Clasico than their 38.
Funnily enough, both players made their bow in this historic rivalry on November 19th, 2005 when the Blaugrana romped to a famous 3-0 win at the Santiago Bernabeu.
For Messi it was a day to remember; the then-18-year-old assisted Samuel Eto'o's opener after 15 minutes. From there, he hasn't looked back and has come up with 26 El Clasico goals of his own, a record in the history of the fixture. Barça's number 10 has been on the winning side 17 times, losing on 12 occasions and drawing nine.
https://www.vanguardngr.com/2018/10/man-city-deny-claims-of-messi-bid/
Ramos, despite being on the losing side that night in 2005, has enjoyed plenty of El Clasico success himself. The defender had already taken on Barcelona twice with Sevilla before securing a big-money transfer to the capital – both losses, 2-0 and 4-0 – but it took until 2006 for his first taste of El Clasico victory, a 2-0 home win in which he assisted Raul for the opener. He's now racked up 13 wins in this fixture in total, while drawing eight times and losing 17 times. Despite being a centre-back, he has four goals to his name, most recently netting a last-minute equaliser in the 2016/17 league match at the Camp Nou.
Looking further down the appearances list, Barcelona have two other players in the squad with at least 30 El Clasico outings to their name: Sergio Busquets with 33 and Gerard Piqué with 30. Following the departure of Cristiano Ronaldo, Real Madrid no longer have any others with 30 or more appearances under their belt, although Karim Benzema (28) and Marcelo (27) are closing fast.
Both coaches experienced this fixture during their playing days as well, even if neither Ernesto Valverde nor Julen Lopetegui ever actually made a single appearance. Lopetegui was at Real Madrid between 1988 and 1991 and at Barcelona between 1994 and 1997, while Valverde was at the Camp Nou from 1988 and 1990. However, both players only ever made the bench, which is where they'll be watching this weekend's fixture from.
https://www.vanguardngr.com/2018/10/neymar-wants-to-return-to-barca/
Subscribe for latest Videos