Several U.S. Media Advocates have filed a lawsuit against President Donald Trump accusing him of stifling free speech in violation of the Constitution.
This is according to a Court document that was filed in a Federal Court in Manhattan on Tuesday.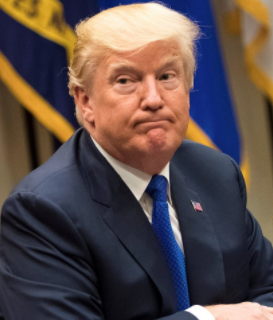 "This complaint arises out of official acts by the President of the United States, Donald J. Trump, intended to stifle exercise of the constitutional protections of free speech and a free press,'' said the lawsuit.
According to the lawsuit that was filed by the literary group PEN American Centre, along with the nonprofit Protect Democracy and the Yale Law School Media Freedom and Information Access Clinic.
IMF charges Nigeria to use external reserves judiciously
The lawsuit accuses Trump of making credible public threats to use the powers of his government against news organisations and journalists, in violation of the First Amendment and Trump's oath to uphold the Constitution.
"The suit seeks to stop President Trump from using the machinery of government to retaliate or threaten reprisals against journalists and media outlets for coverage he dislikes," PEN said in a statement announcing the complaint.
The plaintiffs argue that Trump's repeated attacks on journalists have created a culture of hostility toward the media, and have led to an increase in attacks on members of the press.
3 dead as aircraft crashes into crowd in Germany
The media advocates are not seeking any financial damages, but rather are asking the court to issue an order declaring that Trump's actions violate the First Amendment.
Similarly, he is been enjoined to refrain from directing officials in his administration to retaliate against journalists, who provide coverage that he does not like, according to the lawsuit.
Since taking office in January 2017, Trump has had a stormy relationship with major U.S. media outlets, several of which he has branded "fake news''.
NAN