By Sam Eyoboka
A UNITED States-based Nigeria Law Group has instituted an award in honour of teen female hostage, Leah Sharibu to mark this year's International Day of the Girl.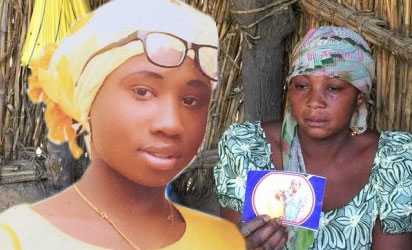 To be known Voices of Indomitable Courage Award eponymous with the heroine captive, 15-year old Leah Shari-bu who has been held hostage for 244 days today is named the International Girl of the Year 2018 for several rea-sons:
*They include the following: While other girls fled a terror attack on her school, Leah refused to abandon her sick classmate whom she was tending to and was consequently captured.
*Surrounded by armed terrorist killers in an evil forest, Leah refused to re-nounce her Christian faith
*Though she knew as a Christian she was at greater risk, Leah led two of her Muslim classmates in a daring escape from the terrorist enclave that lasted three days until she was betrayed by Herdsmen and returned to her Boko Haram captors
*Due to her refusal to convert to Islam, Leah, who is today spending 244 days in captivity, was separated from her classmates and kept with hostage aid workers two of whom were subseq-uently executed
Buhari, IBB, Saraki, Obi, PDP mourn as ex-CJN, Idris Kutigi, dies at 78
*She was offered an opportunity to leave the terror island along with her Muslim classmates if she renounced her faith but Leah declined
*She was asked to make a proof of life plea for herself but Leah went ahead to ask the world to look after her family
*Leah is a star student academically and a talented individual who acted in plays and choreography for the benefit of her Dapchi community
*Today Leah has touched the world with her tenacity, principle and courage that defied the worst evil on the planet
*Leah achieved all this at age 14 and only turned 15 in the terrorists' enclave
For these and more reasons, Leah Sharibu is declared the International Girl of 2018!
The award of Indomitable Courage & Example L.E.A.H Awards: Legency & Exemplary Acts of Heroism goes to individuals who have shown Legendary & Exemplary Acts of Heroism at great personal risk or price against over-whelming odds. Simple acts of def-iance, speaking truth to power, self-denial or going against popular opinion are amongst the kinds of acts recogni-zed by this award.
The inaugural award has the following nominees: Late US Senator John McCain is nominated for his principled out-spokenness and willingness to be im-politic for the sake of truth. Like Leah, Senator McCain refused early release from prison on principle. More recently he flew from hospital to the Congress to cast a crucial vote while calling out his colleagues.
US Senator Flake also Republican from Arizona, like Sen. McCain, showed in-credible courage when he spoke truth to power and to the nation in announ-cing his pending resignation despite being part of the ruling party. More recently, Sen Flake took a stand for an investigation into the allegations against Supreme Court nominee, Judge Kavanaugh, in a move that was necess-ary and timely.
Nigerian Congresswoman, Represent-ative Boma Goodhead reportedly has been arrested by high-handed security forces in her ravaged oil-producing Niger Delta communities because she was in the National Assembly. More recently, she stared down the barrels of guns by masked secret police operatives who besieged and block-aded the National Assembly's offices.
During the illegal invasion, Rep. Good-head in a Tianenman Square moment dared the gunmen to shoot her. The head of DSS was fired that day, follow-ing this attempted Legislative coup by a cabal within the Presidency, restoring sanity in a beleaguered nation.
Bishop charges Buhari on Leah Sharibu's freedom
Chadian Minister for Postal Services Madam Madeline Alinguie made waves when during her swearing in as minister she chose to swear in the name of "God." After being remonstrated twice by the head of the Supreme Court to only swear by the name of "Allah", Madam Alinguie chose rather to step down from her cabinet position than to do so. Ultimately, a decision was made to allow Alinguie, a Christian, not to swear an Islamic oath.
The final awards for:
AMERICA – Legendary and Exemplary Acts of Heroism through Speaking Truth to Power & Self-Sacrifice jointly go to both US Republican Senators Flake & McCain (posthumously)
AFRICA 1 – Legendary and Exemplary Acts of Heroism in Defending Demo-cracy & Defying Danger through Personal Bravery goes to Nigerian Rep. Boma Goodhead
AFRICA 2 – Legendary and Exemplary Acts of Heroism for Freedom of Reli-gion through Self-Sacrifice goes to Chadian Minister Madeline Alinguie
Runners Up and Honorable Mentions
Also considered for these awards were: Bako Waziri Kyari, an IDP for exposing alleged corruption and cover-up by a state official.
Amasa Fidaus, a Nigerian Law student who insisted on wearing a hijab to her bar admission ceremony and was delayed for it.
Deputy Superintendent of Police Tijanni Bulama who pursued the corruption allegations against the President's Chief of Staff and was imprisoned for it.
Dr. Oby Ezekwesili, former World Bank Vice President now consistent activist for captive schoolgirls, policewomen, professors and victims of terrorism has been subjected to police harass-ment and arrest.
Hausa Christians appeal for Leah Sharibu's release
The Managing Partner of the US Nigeria Law Group, Mr. Emmanuel Ogede congratulated the honorees for their modest personal steps which had a greater effect on many.
"Leah had only her voice and her choice. She chose her faith and not fear and that has reverberated from an evil forest to the ends of the earth," he said.