Malaysia's Cabinet announced on Thursday it would abolish the death penalty for all crimes and halt pending executions.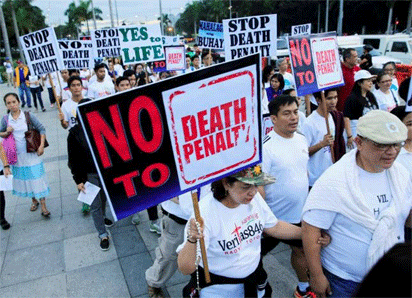 The country mandates hanging perpetrators for a wide range of crimes, including murder, drug trafficking, treason and acts of terror. More than 1,200 people are on death row in Malaysia.
Sen. Abe faults APC NWC's decision on indirect primaries in Rivers
"The Cabinet has agreed to abolish the death penalty," Gobind Singh Deo, communications and multimedia minister, told AFP news agency on Thursday. "I hope the law will be amended soon."
On Wednesday, local media reports quoted Law Minister Liew Vui Keong as saying that that amendment to laws with capital punishment were expected to be tabled when parliament resumes Monday.
'Major step forward'
Human rights groups hailed the decision. Amnesty International said it was "a major step forward for all those who have campaigned for an end to the death penalty in Malaysia."
Osun election : Government declares Thursday public holiday
"Malaysia's resort to the death penalty has been a terrible stain on its human rights record for years," Amnesty's Secretary General Kumi Naidoo said in a statement.
Lawyers for Liberty also welcomed the government's decision.
"The death penalty is barbarous, and unimaginably cruel," N. Surendran, an advisor with the Lawyers for Liberty rights group said in a statement.
Turkey plans to host Euro 2024
"Having rejected the death penalty in this country, we now have the moral authority to fight for the lives of our citizens abroad," he said, referring to the hundreds of Malaysians on death row in Singapore and other countries, particularly for being drug mules.
As of now, 142 countries have abolished the death penalty in law or practice, Amnesty said.
NAN