says Messi is not a leader for Argentina
Lionel Messi "is not a leader," said Diego Maradona of the current Argentina talisman in an interview in Mexico.
"It's useless to try and make a leader out of someone who goes to the bathroom 20 times before a game," Maradona said on Fox Sports.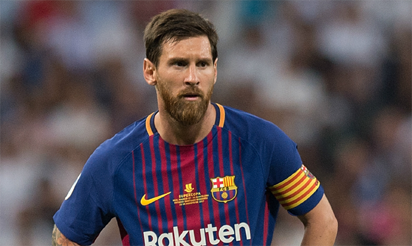 "Before speaking to the coach and players he will be on the PlayStation. Then, on the field, he wants to be the leader," Maradona said as he answered questions in a stumbling voice, sometimes seeming to contradict himself.
"He is the best in the world along with Cristiano [Ronaldo]," Maradona said. "But he's not a leader."
Maradona, who led Argentina to victory in the 1986, said Messi, who was again unable to emulate that feat in Russia this summer was expected to be "the saviour of the fatherland."
https://www.vanguardngr.com/2018/09/we-owe-it-to-ourselves-future-generations-to-do-the-right-thing-saraki/
"Let's stop making a god out of Messi. Messi is Messi for Barcelona, but playing in an Argentina shirt he is another Messi."
Maradona, who is in Mexico coaching second-division Sinaloa, said that if he was Argentina coach he would "not call on Messi" before adding "never say never."
"You have to take the leadership away for him to be the Messi we want him to be,"
"We shouldn't deify Messi any longer," Maradona said in an interview with Fox Sports. "He's Messi when he plays for Barcelona. Messi is Messi when he wears that shirt and he's another Messi with Argentina."
"He's a great player but he's not a leader. It's useless trying to make a leader out of a man who goes to the toilet 20 times before a game."
The reference was believed to be in connection with Messi's extreme nerves before games that have seen him vomit ahead of some important matches.
Messi, 31, has claimed every possible honour with Barcelona and has won the FIFA World Player of the Year award five times.
But he has struggled to reproduce the same scintillating form when wearing the blue and white shirt of Argentina.
Messi has been on the losing side in all four of his finals with Argentina – three in the Copa America and at the 2014 World Cup – and has not scored in four World Cup knockout stages.
After another disappointing tournament in Russia this year, where Argentina failed to get past the last 16, Messi opted to take a sabbatical from international football.
Maradona, who made his comments from the Mexican state of Sinaloa, where he recently took over as coach of local second-tier side Dorados, said Messi's break was a sensible one.
"I wouldn't call him up right now, but never say never. We have to take the pressure off him," he said.