By Abdulwahab Abdulah & Henry Ojelu
Efforts to reduce or eradicate delay in justice delivery took a front burner recently when the Lagos State judiciary convened a summit to apprise lawyers and members of the public of new innovations about to be introduced into the state's Civil Procedure Rules.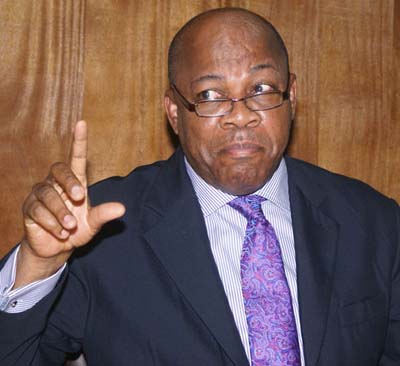 At the event, Chief Judge of the state, Justice Opeyemi Oke stated that the essence of the proposed reform is to tackle delay in justice delivery which she said has become a major challenge in the administration of justice as well as acting in line with the world best practices. According to Justice Oke, Lagos Judiciary currently has the highest number of cases in Nigeria with only 59 judges and 122 magistrates serving a population of over 20 million people. She noted that the situation necessitated her administration to set up a committee to review the 2012 Civil Procedure Rule with a view of infusing new innovations into the rules.
However, as novel as the idea is, some lawyers expressed mixed feelings on some of the proposals by the state judiciary. It was argued that moment the rules become effective in Lagos, it will soon be emulated in other states of the federation by extension.
The new rule
Giving insight into the proposed review, Chairman of the Civil Procedures Rules Committee, Justice Kazeem Alogba, disclosed that any lawyer who scuttled any trial date will pay a minimum fine of N100,000.00 and N50,000 for filling an interlocutory application in the case for which a date has been fixed for hearing. He further said that in the new rule, non- compliance with Form 01 on Pre-Action Protocol will render the process a nullity in addition to 'serious punishment'.
Judge urges writers to address societal issues in literary works
To ensure diligent prosecution, Justice Alogba said default fees will now be N1, 000 per day as against the old N200. He said the proposed new Civil Rule made provision for video conference in taking evidences and limited the main written address to 20 pages on A4 paper, 14 point type size and five pages for reply on point of law. Alogba also said that all means of electronic communication personal to a respondent would now be deployed for service and be taken as proof of service by substitution.
Elaborating specifically on the proposed plan to sanction lawyers who deliberately scuttle trial dates, Justice Alogba said: "One of the provisions we have introduced is that except in very exceptional circumstances, no trial will be adjourned. We have come up with a provision that if you scuttle any trial date, the minimum cost will be N100, 000.
Also for interlocutory proceedings, if you unjustifiably scuttle the hearing of an interlocutory application on the date of hearing, the minimum cost will be N50, 000. "We have emphasized the word 'minimum' because what is involved in different cases differ. A case in which a witness has had to travel from Europe, from Asia to attend proceedings and then you just say, 'I lost my father-in-law yesterday', and so you scuttle such a hearing date, I'm sure you will not expect a N100, 000."
Lawyers React
While some lawyers and stakeholders have applauded the entire proposal, others have expressed uneasiness on the aspects of the amendment that stipulate sanctions for lawyers. Some lawyers also challenged the mandatory provisions in the new rule which stipulates that all civil cases filed in the state must go through the Alternative Dispute Resolution, ADR, window.
Litigants should not be mandated to use ADR—Muiz Banire, SAN
Reacting to the new rules, a Senior Advocate of Nigeria, Dr Muiz Banire, said the rules showed that the judiciary had now decided to tackle delay headlong rather than continue to treat it with kid's gloves. "Today, it will appear as if we now mean business with respect to dealing with congestion in our courts. Most of the blame lies with us, the lawyers; but we cannot, in all honesty, completely exonerate members of the bench. That is the reality.
For us lawyers, it is about rule of self-preservation because if litigants continue to lose confidence in the system, nobody will patronise us again and we are in danger," he said.  Banire however disagreed with the aspect of the new rule which make ADR compulsory for all civil cases. He stated that litigants should not be mandated against their will to use the ADR especially when the process is also expensive and many cases handled there still return to the court.
Implementation of the rule is key—Olisa Agbakoba, SAN
Commending the proposed new rule, former President of Nigerian Bar Association, Mr Olisa Agbakoba, SAN, said the idea is good and he strongly recommended the policy for the judiciary in other states. "The justice sector must no longer be seen as community service but as a commercial service. ADR is very crucial for a state like Lagos.
strongly support it. Let us test it. With the ADR, the more difficult it is to go to court, the less cases you will have in court. I also think that there should be a caveat that if a litigant fails to abide by the decision of the ADR and comes to court, the judge handling the case must impose heavy cost on the litigants if he or she loses the case.
Agbakoba however expressed concern about the implementation of the new rule saying " it is now sexy to make new rules but it is not sexy to apply the new rules. Have they used the old ones? In another three years again, they will bring another one. The issue is not really about new rules but about the application and implementation of the new rules."
Oh God I never knew a day like this will come Evans said, witness tells court
Imposing heavy fines is using a sledge hammer to kill a fly— Monday Ubani, former 2nd Vice President, NBA
Immediate past 2nd Vice President of NBA, Monday Ubani deferred with the proposed rule. According to him, there is no use making the ADR system compulsory when the process has not been effective in resolving cases.  He said: "The Case Management Centre that we were using did not produce any result and now they want to make ADR compulsory. It must say that it is a time wasting venture.
If the ADR will resolve the issues, I don't have any problem with it but most times they use the ADR to delay you and after which you still return to the court. What is the purpose of an ADR that cannot solve the problem? If ADR doesn't resolve issues, then let people go for full trial."
On the proposed sanction on lawyers, he said: "Imposing N100, 000 fines on lawyers for delaying trial is using a sledge hammer to kill a fly. What about judges that most time will come to court and will not inform lawyers that the court would not sit. Who compensates the lawyer whose time has been wasted? We don't want situation where people pretend to be holy and they are not. If you want to penalise lawyers, you should also penalise judges. I am not encouraging lawyers to delay trials. I am saying that the fine is not reasonable."
Bolaji Mohammed
Also speaking on the controversy, a partner in the law firm of Clarke and Paiko, Bolaji Mohammed, said that "the proposed rule is novel since it is aimed at decongesting the courts." He however pointed out that it is wrong for Lagos judiciary to impose heavy fine on lawyers.
"The ADR idea has been in existence before now. The Lagos state judiciary has been creating several means to reduce backlog of cases that have lasted for years without recourse. By the new move or proposals, the judiciary was doing that to sort out which matters are deserved to go before the court.
This is because it has to deal with serious matters. Like some have expressed fear, it won't send lawyers out of business, but to make them sit and adjust to the reality on ground. This will enable them to advise their clients as appropriate. There is nothing absolutely wrong about it.
"On the issue of fine on lawyers, Mohammed said, "I am aware that there is practice direction going on in the state high court to the effect that if you file an objection as an objector and the objection was tested on its merit and you lost it, there is the direction that the least of cost you pay is N25,000. I am aware of that direction and it is not new.
Rivers communities demand justice for victims of 2015 election violence
However, I am of the opinion that payment of cost should not be on the high side, so that lawyers are not afraid of raising issues in court. It is to be noted that not all matters are useless or irrelevant. There are germane and substantial issues that can be raised. The issue of cost should not be scary so that litigant will not be deterred from approaching the court on the ground that cost may be imposed on them if you go to court.
"Also, this will not rob the citizenry of their constitutional rights to approach the court and seek justice.   This is because, moment a litigant feels or has it in mind that whenever he approach the court and make little mistake and will be made to pay heavy cost, he would not be interested or feeling he will be sent away from seeking justice. I am sure you can guest what will be the resultant effect of such development. And moment grievances are not settled in court, then, parties are bound to resort to self help. So the issue of cost should be addressed to be as minimal as possible."
NBA Reviews Rule
Following serious concerns expressed by lawyers practising in the state, Nigerian Bar Association, NBA, Ikeja branch has also inaugurated a committee to review the new rules and ascertain if it would in any way affect the bar and the right of the common man. The branch secretary, Chinedu Ifezue said, "Committee of the branch made a resolution that an ad-hoc committee be constituted to critically review the said proposed High Court Rules as it may affect the Bar and the inalienable right of the common man to access justice and make adequate recommendations to members at a General Meeting regarding our position."
Announcing the members of the review committee, he noted that owing to the nature and urgency of the task, the committee is enjoined to commence its meetings and deliberations immediately and present  its report before the end of October 2018 at an Extra-Ordinary General Meeting to be convened by the executive committee of the branch.