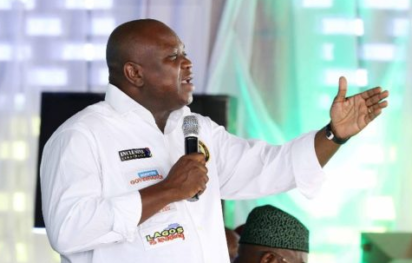 AMBODE
By Gabriel Olawale
THE Lagos State government and the Association for Fertility and Reproductive Health, AFRH, are collaborating to address quackery and exploitation in infertility treatment in the state.
Lagos State Governor, Mr. Akinwumi Ambode who  disclosed this last week said the government would do everything within its power to support AFRH enable the State put smiles on the faces of infertile couples seeking infertility treatment and protect them from being taken advantage of.
"As a responsible government, we are willing to collaborate and partner with AFRH to ensure enforcement of the law against fake and unprofessional practitioners. This is a duty to us as a state."
Ambode who was represented by the Special Adviser on Primary Health Care, Dr. Olufemi Onanuga at the 8th Annual International Conference of the AFRH tagged, "New Frontiers in Assisted Reproductive Technology, ART" said that considering the importance placed on child bearing in Africa as a continent and Nigeria as a nation, many marriages would have been truncated if not for Assisted Reproductive Technology.
"Child bearing in this part of the world is considered one of the most important parameters in accessing successful marriage. This technology has put smiles on the face of couples and helped to hold many marriages that would have been truncated by challenges.
"I am happy to note that as a government we have recorded some progress in this regard through the Institute of Fertility Medicine in partnership with Bridge Clinic, which was designed to make ART services available at affordable rates for indigent couples, has resulted in successful delivery of 74 babies to couples."
He however, urged the Association to pay more attention to ethical standard and affordability for couples who desire to take advantage of the technology.
President of the Association, Dr. Faye Iketubosin, in his opening speech 43 IVF Centers operate nationwide 35 being privately owned.
"The rapidly unfolding development of Assisted Reproductive Technology practice calls for coming together of all Centers in Nigeria as we have done at this meeting, to discuss important issues with a view to check unethical practices and abuse of those seeking our services while obtaining the minimum standard for establishing IVF clinics.
The Keynote Speaker, Joyce Harper, a professor of Human Genetics and Embryology at the Institute for Women's Health, University College London, urged AFRH to encourage people who pass through IVF to tell their story because in United Kingdom nobody feels negative about IVF.