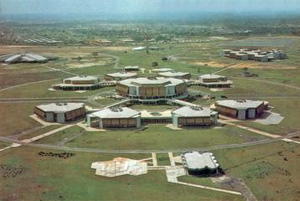 Lagos Trade Fair complex
By Etop Ekanem
The 3rd Lagos State Micro Small and Medium Enterprises Exclusive Fair #lagosmsmefair is here again. This will be holding at Teslim Balogun Stadium, from tomorrow, Tuesday, October 2 to Monday October 8, 2018 between the hours of 9am to 6pm daily.
#lagosmsmefair is an initiative of The Lagos State Ministry of Commerce, Industry and Cooperatives. This year, the fair is centred around improving the quality of made-in-Lagos products, hence the Theme: "Enhancing MSMEs' Product Quality for Global Competitiveness."
It's no longer news that Lagos State is the hub for micro, medium and small businesses and that several businesses are sprouting up daily, which in no small way has been strengthening the economy of the state. It is to this effect, therefore, that the state government continues to give strong support to the industry.
The seven–day fair would have about 400 indigenous MSMEs exhibiting, spanning across food and beverages, household and home appliances, textile, fashion and accessories, leather works, furniture, cosmetics, health and fitness, arts and crafts, services and other sectors.
As a result of the focus on quality, over 20 regulatory agencies and institutional support providers such as NAFDAC, SON, CAC, BOI etc will be fully on ground for consultation and to give all the necessary support to current and intending entrepreneurs, who want to play on a global scale.
Daily mediation sessions will be held by LACIAC for as many who would like to know more about 'Out of Court' dispute resolution, The Lagos MSME Fair ground is a good opportunity for you to get better enlightened.
#lagosmsmefair is expected to have over 2000 visitors daily at the fair ground and there are loads of giveaways to be accessed by the visitors daily.
Plan to be at the fair to shop, network, get educated, have fun and win prizes. Follow us on social media platforms @lasgmsmefair.
Join the Purchase Made-in-Lagos; Create employment campaign, it's our Lagos and its development depends entirely on us.