The Lagos State Government on Sunday said concerted efforts were on to rehabilitate failed portions of highways and roads across the metropolis, with a pledge to aggressively fix potholes in coming days.
The State's Commissioner for Works and Infrastructure, Mr Ade Akinsanya, in a statement, said though many roads across the State had been fixed in the last few weeks, the Government would nonetheless scale up efforts to ensure that all dilapidated sections of roads across the State were rehabilitated to bring comfort to residents and motorists.
Already, Akinsanya said roads in strategic areas across the State including Ikorodu, Itokin, Lekki, Ojota, Lawanson Road, Ogunlana Drive, Abraham Adesanya, among others have been fixed with motorists and commuters experiencing less travel time by driving smoothly on the roads.
According to the Commissioner, "Massive road rehabilitation across the State has already been embarked upon and we like to assure the public that all road corridors across the State will be touched by the various rehabilitation gangs who have been deployed to all nooks and crannies of the State.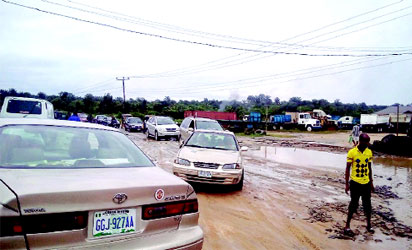 "At the moment, areas already covered include Lekki –Expressway by Abijo and Abraham Adesanya roundabout carried out by Hi-tech Construction; Ojota, Ketu and Mile 12 sections of the Ikorodu road have been attended to, while work is also on-going on Ijede-Ewu-Elepe road in Ikorodu, amongst others.
"More importantly, the various failed portions on the Lagos Badagry Expressway are also being attended to presently. These include the Iyana Isashi Junction, Iyana Era, Agbara and Ijanikin," Akinsanya said.
https://www.vanguardngr.com/2018/10/efcc-quizzes-abia-finance-commissioner-4-ministry-officials-over-alleged-fraud/
The Commissioner, who further said that all the other failed portions on the highway and roads across the State would be attended to in the coming week, specifically thanked motorists and road users for their patience and abiding faith in the ability of the State Government to bring succor and comfort to them, assuring that they would not be let down.
Meanwhile, motorists and commuters have commended the State Government for heeding their call by carrying out comprehensive rehabilitation works on the roads affected by potholes.
This view was expressed by motorists plying the major highways and roads across the State.
From Ikorodu road to Lekki expressway, where the potholes have been fixed, to Ikorodu, Itokin road, Ojota, Lawanson road, Ogunlana drive to Abraham Adesanya roundabout, motorists and commuters have witnessed less travel time by driving smoothly on the road.
It would recalled that following the cessation of heavy rainfall which created hardship for motorists and other road users across the State, the State Government directed the massive rehabilitation of roads across the State.
https://www.vanguardngr.com/2018/10/ford-to-produce-vehicles-that-automatically-warn-of-emergency-ahead/