…Vows To Prosecute Offenders
The Lagos State Government on Thursday disclosed that it has established a Special Team to ensure efficient traffic compliance in the State and particularly address the observable flagrant disobedience to traffic rules by motorists.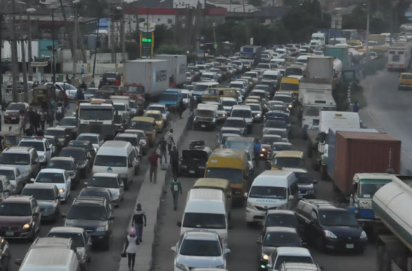 Chief Executive Officer of Lagos State Traffic Management Authority (LASTMA), AIG Chris Olakpe (Rtd) who disclosed this after a tour of notable traffic prone areas of the state in company of other top hierarchy of the Agency including the General Manager, Mr. Olawale Musa, said the development was part of series of actions and concerted efforts taken to tackle the traffic gridlock headlong across the State.
The Special Team, according to him, consists of the Police, LASTMA, Federal Road Safety Commission (FRSC), Nigeria Security and Civil Defence Corps (NSCDC), and men from different military formations with the purpose of maintaining physical presence and ensuring compliance at the identified traffic trouble spots.
He expressed optimism that the officers would bring their experiences and professionalism to bear and compliment the efforts of existing staff on ground, adding that their primary responsibility is to ensure efficiency in the traffic control and enforcement of traffic laws all over the state.
Olakpe warned that LASTMA would not hesitate to prosecute recalcitrant motorists in the habit of flouting the existing traffic laws, assuring that the agency remains totally committed to ensuring efficient traffic control across the State.
He assured that no stone will be left unturned in the management of traffic and enforcement of traffic laws in the State.
"A radical problem required a radical solution. Therefore, I want to state clearly that any motorist caught violating the law would face full wrath of the law. Let me also seize this opportunity to plead with Lagosians and the general public for orderliness to reign on the roads," he said.
He said all owners of articulated vehicles apprehended at Apapa earlier this week for wilful obstruction, and 36 other vehicle owners arrested for driving against traffic will soon have their day in court accordingly.
Olakpe enjoined traffic officers to be more dedicated and work within the ambit of law, saying that it had become imperative especially now that repair and rehabilitation of roads are in top gear across the State.
He added that the Agency was glad that it had already shared vital information on the critical roads that need immediate attention with other relevant government Ministry and Agency and repair already ongoing, assuring that succour would soon return to the roads especially now that the rains have subsided.
https://www.vanguardngr.com/2018/10/bello-lauds-president-buharis-achievements-in-power-sector/
He also played down the insinuation that LASTMA have relaxed in enforcing traffic rules in the State, noting that over 1,200 vehicles are apprehended monthly by LASTMA for various traffic offences.
He said the impression that LASTMA does not enforce anymore was false, but rather the approach of civility which commenced early last year had reduced confrontation and fighting between LASTMA personnel and members of the public and was being misinterpreted as meekness by the Agency.
https://www.vanguardngr.com/2018/10/federal-roads-fg-approves-n74bn-refund-to-a-ibom/
Olakpe, however, noted that there was the need to do more and ensure total compliance on the roads prompting the setting up of the special traffic compliance team.
It would be recalled that in May 2018, the Agency commenced a process of presenting traffic offenders directly to a mobile court to determine their cases to remove incidences of arbitrariness and indiscretion of traffic officers which had been a sour point between LASTMA and members of the public in the past.
This, Olakpe said, had reduced complaints about LASTMA officers by over 60 per cent.
Subscribe for latest Videos