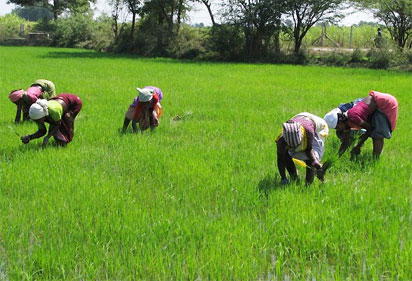 File: farmers
By Abdulmumin Murtala, Kano
Deputy Governor of Kano State, Alhaji Nasiru Yusuf Gawuna has lamented that many farmers in the state who benefitted from revolving loans have failed to pay back and was affecting others who also wanted loans.
Speaking at the opening ceremony of the third edition of the International Agric Expo 2018 with the theme: "Repositioning Nigeria's Agriculture For Sustainable Socio-economic Development", Alhaji Gawuna disclosed that only four farmers out of 4,500 were able to repay the loans given to them in a particular revolving loan scheme guaranteed by the state government and that the police and the judiciary had to be involved. He then challenged the farmers to be committed to the scheme.
He assured the farmers that the state government was willing to stand as the guarantor for them provided they meet up with the loan agreements as it is only when they pay back such loans that other farmers could access them.
Restructuring can address minimum wage issues – Ogidi
He added that the government has also provided a revolving loan scheme worth N150m for the procurement of seeds.
The deputy governor who also doubles as the commissioner for agriculture in the state assured the stakeholders in the agriculture sector which include the All Farmers Association of Nigeria (AFAN), Global Agric Expo Ltd (GAEL) and Kano Chambers of Commerce, Industries Mines and Agriculture (KACCIMA) that the state government would assist in tackling some of the challenges they have identified to ensure that agriculture meets up with global standards in production, processing, packaging and marketing of the farm produce for sustainable development of the country.
These challenges among others include lack of qualitative seeds, late supply of fertilizer, lack of pesticides, flood and access to revolving loans.
Abia to establish SME microfinance bank
On the issue of the dry season farming, he stated that all dams in the state belonged to the federal government and that most of the 15 dams needed repairs. He explained that the state government was making arrangement as the beneficiary of the dams to secure $95m loan from the Islamic Development Bank for the repairs of the dams and creation of water channels to be accessed by farms around the dams' locations.
He said when the repairs were completed, the dams would provide enough water for farmers to engage in dry season faming to substitute for the shortage of rainfall.
The state government, according to him, has assisted farmers in Watari Dam area whose farms were washed away by flood with seeds and pesticides worth N242m