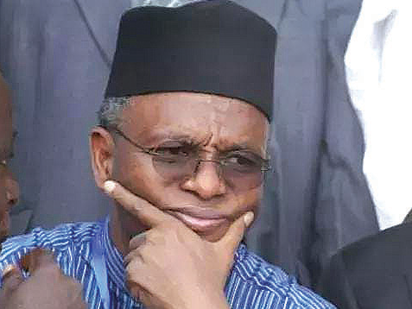 Kaduna state Governor, Nasir el-Rufai
…IGP deploys AIG, 4 PMF, others to restore peace
..Says 22 suspects arrested, in custody
By Kingsley Omonobi & Joseph Erunke, with agency report
KADUNA—Kaduna State Government, yesterday, imposed a 24-hour curfew on Kaduna town and its environs following renewed tension in Kaduna metropolis over insinuations of reprisal of the violence in Kasuwan Magani area of the state on Friday.
At least 55 people were confirmed killed in the fresh violence.
The imposition of the curfew was announced in a short message by Governor Nasir el-Rufai, on his verified Twitter handle.
"This is a notice of a 24-hour curfew imposed on Kaduna town and environs, with immediate effect. Residents are advised to comply by this directive. The decision has been taken in the best interest of the state," Governor El-Rufai wrote.
After gruesome murder of 55 persons: We will prosecute perpetrators of killings… – El Rufai
El-Rufai's spokesperson, Samuel Aruwan, also confirmed the curfew.
"24 hours curfew has been imposed on Kaduna town and environs. It is with immediate effect ," Mr Aruwan wrote on his Facebook page, yesterday.
Recall that Kaduna State Government had on Friday imposed a 24-hour curfew on Kasuwan Magani in Kajuru Local Government Area following the violence.
Many residents of Kaduna metropolis, yesterday, rushed indoors as irate youth burnt tyres along Katsina Road, Ibrahim Taiwo Road, Lagos Street and Ahmadu Bello Way.
IGP deploys AIG, 4 PMF, others to restore peace
Meanwhile, the Inspector General of Police, IGP, Ibrahim Idris, has deployed a detachment of police investigation team, headed by Assistant Inspector General of Police in charge of Zone 7 to the area to restore peace.
Idris,who condemned the latest killings in the state, disclosed that the police have made significant in-roads in the investigation into the incident that claimed over 55 lives.
Stanbic IBTC, Kaduna partner to establish entrepreneurship centre
The  IGP, in a statement by the Force Public Relations Officer, Jimoh Moshood,  said 22 persons found to have been directly involved in the mayhem were also in police custody.
Moshood's  statement read: "Concerned with the unfortunate attack and killings of 55 innocent people, mayhem and the resultant disturbance of public peace that occurred in Kasuwan Magani, Kajuru, Kaduna State on October 18, 2018, which also resulted in destruction of property worth millions of naira, and the need to put an end to this crisis, the Inspector General of Police, IGP Ibrahim K. Idris, has deployed the Assistant Inspector General of Police, Zone 7 Headquarters in charge of Kaduna State, Niger State and the FCT to lead the Police Special Intervention Force, comprising four units of Police Mobile Force (PMF) specially trained Anti Riot Policemen, Counter Terrorism Unit, Conventional Policemen, Federal Special Anti Robbery Squad (FSARS), Intelligence Response Team (IRT), Technical Intelligence Unit (TIU), State Intelligence Bureau (SIB), detachment of EOD, Police K9 (Sniffer Dogs Section), already on ground at Kasuwar Magani, Kajuru, Kaduna State."
Breaking: Again, Elrufai imposes 24 hours curfew in Kaduna town
"The operations will cover the entire Kasuwan Magani and environs, and other flash/trouble spots in Kaduna State. The Police Special Intervention Forces will be working in synergy with the Kaduna State Police Command to ensure that total peace and normalcy are restored and sustained in Kasuwar Magani and environs."
The statement quoted the IGP of charging "traditional rulers, religious leaders, public office holders, politicians, opinion leaders, parents and guardians to prevail on their subjects, supporters, children and wards to support the personnel of the Police Special Intervention Force in the discharge of their responsibilities, and propagate peace, demonstrate love, and tolerance to promote harmonious coexistence with their fellow citizens, irrespective of religious, ethnic inclinations and differences."