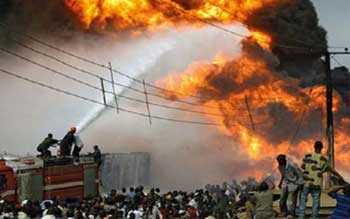 *Fire fighters battling the raging fire
By Emma Amaize
ASABA- A former Commissioner for Environment in Delta State, Chief Frank Omare, has said he had no hands in the raging crisis between Aladja and Ogbe-Ijoh communities in Udu and Warri South-West Local Government Areas of the State.
Omare, a native of Ogbe-Ijoh, who spoke to Vanguard on phone, appealed to leaders of both communities to stop the unending bloodshed and let peace reign for development to come to the areas.
 "There is no way any person, who is a stakeholder in this state will ignite trouble in either of the two communities, I cannot encourage it.
"As I speak to you, the children in Ogbe Ijoh cannot go to school; the Warri South West local government with headquarters in Ogbe Ijoh cannot even function well because of the crisis. "What do I have to promote crisis, a civilian, it is all about native blackmail. There was one time one medium wrote that I carried out Niger Delta Avengers to destroy Aladja," he stated.
According to him, "No Ogbe Ijoh man will go to Aladja and begin to shoot because 50 percent of Ogbe Ijoh people are Aladja and 50 percent of Aladja people are Ogbe Ijoh, what we are looking for. I know nothing about planning evil about. I have a house in Ogbe Ijoh, which I have not slept there for the past three years."
He confessed that he had not slept in his house in the community for three years and cannot go the town by road because it had been permanently blocked as a result of the crisis.
https://newlive.vanguardngr.com/2018/10/youre-doomed-leave-wike-out-of-it-pdp-tells-crisis-ridden-rivers-apc/
The ex-commissioner bemoaned: "The question to be asked is am I happy that Ogbe Ijoh is an oil community and there is no reasonable development from the state or federal governments just because of crisis. And it is not that the governor or president cannot site projects there, but will the projects see the light of the day."
His words: "Former governor, Chief James Ibori tried to resolve the issue for eight years, he could not, his successor, Dr. Emmanuel Uduaghan tried for another eight years and he could not, now Governor Ifeanyi Okowa has come."
"The two communities are less than two miles from each other, if there is development, you cannot even differentiate between them in a matter of years.  Prof Ekoko Panel came and proffered some solutions to resolve the matter, there is a White Paper with the government, why should peace not be kept.
"As it is, I cannot go home; I cannot go to my village from Warri to Ogbe Ijoh because the road has been permanently blocked. In the past six months or so, I have not been there, there was peace, why the disruption now," he queried.
 "Last week, Aladja people went to Ogbe Ijoh and shot one person, I heard that a house was burnt in Ogbe Ijoh, is it Ogbe Ijoh people that burnt it. Is it the governor that controls the army, he, who alleges must prove," he said.