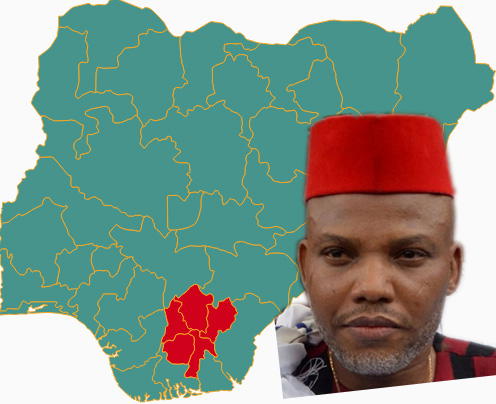 Leader of Indigenous People of Biafra, IPOB, Mazi Nnamdi Kanu
The Afaraukwu-Ibeku community in Umuahia North Local Government Area of Abia has demanded the whereabouts of Eze Israel Kanu from the community in the aftermath of the 2017 "Operation Python Dance II" in Abia.
The community had declared Kanu missing after the alleged attack on his palace in September 2017.
News Agency of Nigeria (NAN) reports that Kanu is the traditional ruler of Afaraukwu Autonomous Community and father of Nnamdi Kanu, the leader of the proscribed Indigenous People of Biafra (IPOB).
Addressing newsmen in Umuahia on Wednesday, Chief Emeka Ezebuiro, the President General of Afaraukuwu Ibeku Development Union, said that the community was still at a loss over the disappearance of their royal father.
Enugu APC disclaims factional chairman, Ogbodo, confirms Sen Ayogu Eze as gov candidate
Ezebuiro said that the community had been passing through psychological trauma since the monarch got missing.
In a statement jointly signed by the president-general along with the traditional rulers of Okwulaga and Enyiukwu Autonomous Communities, Eze Eddy Ibeabuchi and Eze Philip Ukaegbu, respectively, the community called for the immediate release of the missing traditional ruler.
The community further distanced itself from the newspaper publication alleging that Gov. Okezie Ikpeazu "was playing politics with the plight of our traditional ruler."
It absolved the governor of complicity over the continued disappearance of the octogenarian monarch.
2019: Enugu workers, youths, reiterate support for Ugwuanyi
It said that Ikpeazu had at different meetings with the community leaders promised to engage other South-East governors to facilitate the return of the traditional ruler.
The president-general said that the governor had openly resisted alleged pressure to dethrone Kanu on the grounds that the monarch did not commit any offence against the laws of the land.
"We wish to state that our people have never accused Ikpeazu of being the mastermind of the attack on our community.
"We were privy to the efforts he made to stave off the attack as well as his exemplary post-crisis management efforts.
"We, therefore, wish to call on politicians and their hirelings to desist from meddling in our matter for cheap political gains," the community said.
NAN