A case seeking for the impeachment of President Muhammadu Buhari over alleged non possession of his West African Examination Council, WAEC, certificate  and other qualifying credentials has been adjourned till November 26 by Justice Maureen Onyetenu-led Federal High Court sitting in Osogbo, Osun state.
Buhari has done much to secure lives of Nigerians – APC Chieftain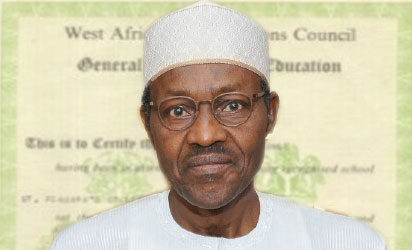 In the suit, filed on June 19, accused president Buhari of violating the provisions of the 1999 constitution but not possessing the required qualifications to contest for the presidency.
The suit has the National Assembly, Senate President and the Speaker, House of Representatives as co-defendants alongside President Buhari as the 4th defendant.
It accused the National Assembly of "closing their eyes to the president's gross misconduct," and failure to impeach the president.
According to Sahara Reporters, The suit partly reads thus,
"In the light of the 4th Respondent's placement to continue in the office as the president, he has no certificate and basic requirements upon which this placement to continue in the office can be placed.
"The 4th Respondent on the 29th day of May 2015, took an oath of office, among others, to the effect that, he would rule in accordance to and protect the constitution of the Federal Republic of Nigeria, particularly section 14 (2) (b) which stipulates that the security and welfare of the people shall be the primary purpose of government. In the contrary, the 4th Respondent has proved to be unable to guarantee the security of lives and property of the citizens of the Federal Republic of Nigeria in fulfilment of his oath of Office.
"The herdsmen killings of innocent citizens under the 4th Respondent have been uncountable, unbearable and unprecedented overheating figures in the globe. The 4th Respondent, in contravention of the due process and sections 80 and 81 of the 1999 Constitution, spent about $496 million on the purchase of Tucano Jets without the approval of the National Assembly of the Federal Republic of Nigeria as required by the law.
"The 4th Respondent ordered to be withdrawing money from the public fund of the Federation without the approval of the National Assembly or the authorisation of its act and same used for the purchase of Tucano jets. The 4th Respondent has committed several impeachable offences, that is, gross misconduct.
"By the provision of section 143 of the 1999 Constitution, the 1st to 3rd Respondents (The Senate President, the Speaker of the House of Representatives and the National Assembly) have the statutory duty to impeach the 4th Respondent as the president and Commander-in- Chief of the Armed Forces of the Federal Republic of Nigeria on gross misconduct.
"The 1st (Senate President) and 3rd (Speaker) Respondents have closed their eyes to the gross misconduct of the 4th Respondent."