By Emma Nnadozie and Esther Onyegbula
This interview was conducted amid a mild drama that ensued right at the office of the Controller of Immigration at Seme border in Lagos.
While the Immigration boss, Dom Asogwa, was gearing up to answer our first question, his men informed him of the arrest of five young Nigerian girls travelling to Ghana without valid documents.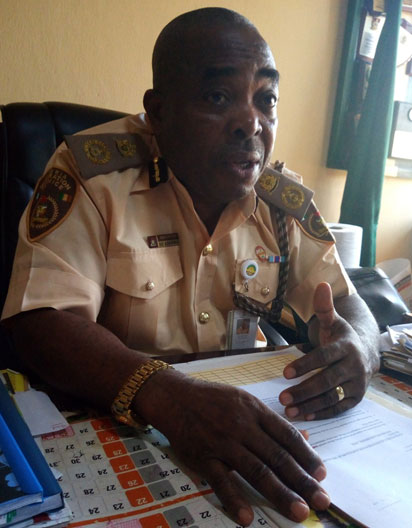 He ordered that they should be brought before us to witness what they go through daily. During a seemingly friendly but stern interrogation that lasted about an hour, it was obvious that the job of Immigration officials is herculean and needs thoroughness for success to be achieved.
The Immigration controller during the interview called for all hands to be on deck in fighting human trafficking.
Seven-month' stay in Seme
I am about seven months old here and, as a matter of fact, I am new to border management and security but it is quite interesting. It is also challenging but, as a trained officer, I have been able to conquer most of the challenges here apart from the fact that border criminality is as old as human being because it started during the era of slave trade and Badagry was also a port through which a lot of people were smuggled to the outside world.
2019 elections: Former SSS boss calls for independence of security agencies
Since I came, it has not been easy but I have done a lot. When I resumed here, I discovered that Nigeria Immigration officers were operating from Seme. That was a major challenge. Before getting to their offices, most of them would cross over to Benin Republic and the challenges from the Benin authorities persisted and I said I had to bring them back to Nigerian soil so that the embarrassment will be reduced. This was achieved within three months of my assumption of office.
I brought back that office in Benin Republic down here. Our boss in Abuja, Muhammed Babandede, has a very good mission and vision on border management and security, which is one of his core interests. Border security is one of his cardinal efforts towards ensuring national security. He brought well trained and experienced officers to man the border, so our successes so far should be attributed to his vision of maintaining tight security at the borders.
Human trafficking
When I came, I discovered that people were being smuggled to Ghana, Togo, Mali,  etc. I said I won't encourage smuggling and trafficking of humans from this axis. I discussed with my officers and we agreed that it is a task that must be done. I had to come up with a strategy to curtail irregular migration from this flank.
And I can tell you that since I resumed here, I have reasonably stopped people from travelling especially when their mission is undefined and in doubt, you don't have genuine travelling documents; why you are going to where you are going? I have drastically stopped people without travelling documents from this flank from going to Ghana, Togo, Mali, Cote d'Ivoire for prostitution. We have also reunited those coming back from Ghana, Mali, Libya, victims of human smuggling with their families.
We also sent some of these victims to their liaison offices in Lagos so that their states will understand what their indigenes are doing and how they are being repatriated to the country. 99% of the people who are repatriated for one issue or the other are women. Most of them are repatriated for engaging in prostitution. We take them to their states' liaison offices in Lagos to take care of them and reunite them with their families in accordance with our establishment Act of 2015.
Conservatively, we have prevented between 300 and 500 Nigerians from travelling from this axis. And those rescued are about 200 from being smuggled out of the country while those reunited with their families are about 20 within the last six months.
Osun election: East to boycott 2019 presidential elections
What we do is to refuse them passage and send them back, but we discovered that some of them didn't even know where they were going and, once we established that the person is from a particular state, we send him or her to the liaison office of his state in Lagos, and it is the responsibility of the liaison office to take custody of him or her and possibly reunite him or her with his family. Because of the confidence and trust that the Comptroller- General has in us, we have been doing this without any issues.
I have also been working with other security agencies because you cannot do it alone. There must be synergy with other security agencies within your area of jurisdiction. For instance, when we launched the 'Passport to Safe Migration', we had all the security agencies in attendance to educate them on the nitty-gritty of travelling in and out of the country.
'Passport to Safe Migration' campaign
Since we launched the campaign, a reasonable number of citizens now travel with genuine travelling documents. It has actually paid off because there is nothing like enlightenment.
Many people don't know, and we also know that ignorance is not an excuse to break the law. Based on that, we came up with this enlightenment campaign which was kicked off by the Comptroller- General in Edo State so that people can travel with genuine travelling documents and it has paid off tremendously. I called a meeting of travel agents because they come in contact with human traffickers.
We enlightened them on the consequences of engaging in such act. If you allow these girls to travel without referring them to us, they will go out there and probably come back with one infection or the other. Some of you, your friends or relations will marry them and they will start having issues. So, the best thing is for us to stop them. How do we stop them? We stop them when they don't have necessary documents. Some of them talk about the ECOWAS protocol which does not allow you to travel without valid document which is international passport or ECOWAS certificate, depending on where you are going.
I also set up a task force called, 'Operation Show Your Travelling Document', before you pass the new ECOWAS building built by African Union and ECOWAS to be handed over to the Nigeria government and Benin Republic soon.
Economic implications of irregular immigrants
Irregular migration affects the country socially and economically.
Why people travel en masse outside the country
Ghana can never be better than Nigeria, quote me anywhere. How many are they that Nigerians are rushing to Ghana, Togo, Cote d'Ivoire? It can't be for better life. The issue is that we just don't want to stay here and own our country, do the right thing for us to move forward. We are their (Ghana, Togo and the rest) leaders. When they tell you that Nigeria is the giant of Africa, it is real. That is why we are driving almost all the policies in Africa.
Numerous checkpoints between Badagry and Seme
We had a meeting with stakeholders on this flank because the numerous checkpoints don't encourage easy travel and the present government is working towards making sure that people come in through this flank, to encourage foreign direct investment in line with ECOWAS policy on free movement of persons, goods and services. So, the heads of security agencies met and agreed that the situation should not continue.
2019 elections: Former SSS boss calls for independence of security agencies
And that is what necessitated the setting up of a taskforce to reduce the number of checkpoints on the road. Now it has drastically reduced and we are working so that Nigerians travelling with legal documents can move and do their business without molestation. We are on top of the situation; we are collaborating with the Customs, the police, NDLEA, Road Safety and other agencies at the border.
Excesses of officers
Before I assumed office here, I was the Commandant of the Nigerian Immigration Training School, and I trained a reasonable number of the officers and men serving here. So, when I came in here, the officers keyed into my vision on zero tolerance for extortion and keeping to best practice.
Boosting morale of officers and men
I made them to understand that it is a privilege to work at this command and that they have a role to play in border management. This boosted their morale.
Meeting with trans-border transporters
I called a meeting of major transport owners like ABC, Young Shall Grow, Cross Country, Chisco to my office when I resumed to tell them the type of passengers should carry; that they don't have to carry passengers going to West Africa countries without travel documents. I also educated them on the type of travel documents they should have: International passport or ECOWAS travelling certificate.
They have been complying but, at times, some of them still carry passengers without travelling documents. In that case, the big arm of the law will deal with them.