…as gangsters KILL policemen, cart away their arms
• Delta: Officers maimed, AK 47 rifles stolen
• Cross River: Bandits, cultists execute cops, run off with guns
• Akwa Ibom, Edo: No conscious show aggression on police
• Politically motivated assaults in Bayelsa
By Emma Amaize, Regional Editor, South-South, Sam Oyadongha, Egufe Yafugborhi, Festus Ahon, Ike Uchechukwu, Harris-Okon Emmanuel, Chioma Onuegbu, Davies Iheamnachor, Emem Idio, Perez Brisibe, and Ochuko Akuopha and Alemma-Ozioruva Aliu 
IT is not strange at many police formations across the country these days to see policemen rebuff posting to what they consider as "dangerous beats". In fact, you can count the number of policemen that want to be drafted to chase armed robbers.
They would rather prefer to be posted to guard wealthy politicians and businessmen, companies, supermarkets and eateries, where they believe their lives are not endangered.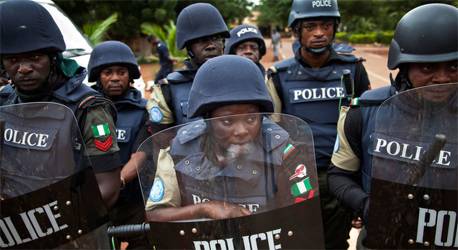 You may not fully appreciate the worries of the regular policeman except you wear their shoes, but it is their declared duty to protect life and property. If truth be told, armed robbers, cultists and other gangsters have turned the hunter (police) to the hunted in their unlawful bid to reinforce their munitions store and ward off arrest, especially in Delta, Rivers and Cross River states.   Our correspondents report.
Pathetic situation in Delta
On September 27, around 2.00 am, armed robbers ambushed Dragon Team 28 on pin down at Otovwodo Junction, Ughelli, Delta State, and shot dead the team leader, Inspector Friday Egambor. They carted away his AK 47 rifle with 30 rounds of ammunition. Other members of the team tried unsuccessfully to repel the hoodlums.
A roasted chicken seller, who witnessed the attack, disclosed that the colleagues of the slain inspector fled when the gunmen opened fire.
The source, who simply gave his name as Aliyu, said: "He was sleeping on a blue plastic chair when the gunmen struck, shooting him on the neck and taking away his rifle while his colleagues fled leaving him in his pool of blood."
Bandits ambush DPO, kill sergeant
Two days after, precisely September 29, around 8.05 pm, unknown gunmen ambushed the Divisional Police Officer, DPO, Sapele Division, at the Sapele/Benin Bye-pass, Ikpoba River Bridge under Edo State Command, while he was returning to Sapele from Asaba.
The bandits opened fire on the patrol team. Inspector Amali Olotu sustained bullet wounds on his right shoulder and left leg ankle, while Sergeant Pascal Iboi sustained multiple gunshot wounds in the abdomen.
The patrol vehicle was shattered with bullets from the bandits. The injured policemen were rushed to Odiase Medical Center, Asaba for treatment, but Iboi died while receiving treatment.
Policemen flee, abandon rifles
In Asaba, the state capital, a police patrol team attached to 'C' Division was attacked by daredevil armed bandits, who killed one of the five police officers in the team. The incident, which occurred at Cable Point area, threw residents into confusion, as three police officers fled for their dear lives, while one was left in critical condition.
Sunday Vanguard gathered that the armed bandits, who snatched two AK 47 rifles abandoned by the fleeing policemen, ambushed the five- man police team at about 8:30 pm on the fateful day. They were said to be armed with machetes and other dangerous weapons and how they were able to overpower policemen with AK 47 rifles beats imagination.
A reliable source said two of the policemen were severely cut with machetes by the hoodlums. This attack would bring the number of cases of attacks on police patrol teams by gunmen in the state to three in last two months and two AK 47 rifles were reportedly also taken away in a similar attack at Issele-Azagba.
Similarly, on August 11, two policemen attached to the Ughelli Area Command, were killed at a checkpoint along the Kpakiama community area of the Bomadi/Ohoror road in Bomadi local government area of Delta State. The gunmen also collected the AK 47 rifles of the slain policemen.
Corporal shot dead, colleagues escape
A corporal, identified as Kingsley Dike of the Ughelli 'A' Division, was shot dead while a colleague sustained gunshot wounds on his hands during a routine patrol. The hoodlums collected Kingsley's rifle.
Giving details on the attack on Kingsley and his team, a senior police officer, from the Ughelli Area Command, disclosed that the gunmen, numbering12, were driving in three Toyota Camry cars when they accosted the police team, numbering five, during their routine patrol and opened fire on them.
OKOWA: More kudos for peace, development
The police officer, who spoke on condition of anonymity, said: "Four of the policemen escaped into the bush when the hoodlums opened fire, but Kingsley was not as lucky as others, as he was shot on the back with the bullet exiting from his chest.
"We have been raiding flash-points in Ughelli and environs and I can assure you that we will do everything within our power to ensure that the suspects are brought to book and the rifles recovered."
Gunmen kill 2 policemen in Aboh, cart away ammunition
Barely two weeks later, suspects to be sea pirates, and dressed in Army uniform, invaded the Aboh Police Divisional headquarters, Ndokwa East Local Government Area, Delta and shot dead two police officers.
The gunmen, who attacked the station in the early hours of September 29, also left one other police officer in critical condition, while others escaped with bullet wounds. The assailants, who took police officers on duty unawares, made away with some ammunition in the police station
"One of the police officers died on the spot, another one died on the way to hospital while the injured ones are receiving treatment", a source who preferred anonymity said.
"A plain clothes female police officer, who was at the gate of the police station, escaped unhurt after she told the gunmen that she was a flood victim, who came to seek refuge at the police station.
"When they left there, they went to the marine police post in the community and stole the engine of a patrol boat".
Another source, who also spoke on the development, said the gunmen also went to Ndoni Marine Police and opened fire at them. He added: "They stole the engine of an abandoned military patrol boat", he said.
Their target is weapons – Muhammad, CP Delta
Commissioner of Police, Delta State Command, Mr. Muhammad Mustafa, told Sunday Vanguard: "We have arrested some suspects attacking our policemen, two in Asaba, one in Akwukwu Igbo. We are looking for about five weapons. We have the suspects but we are yet to get the weapons. The ones that attacked in Akwkwu-Igbo and at one of the filling stations, Rainoil, are in our custody."
"Eventually, investigation will show us where they keep the weapons. They have told us how they made the attacks. The only thing is that we do not have the weapons in our hands, but if we have the suspects, we will surely get the weapons".
On why criminals were attacking policemen, he said: "All what they were saying is that it is the weapons they were looking for. The other ones in Patani, Ughelli, Abraka, Okwe and Cable Point, where two rifles were taken, investigations are going on. You know when you attack the police, you cannot get away with it and we will round them up.
Truck kills 14 in Ilesha-Akure Expressway Police checkpoint
"So it is a matter of time, it is the weapons they are looking for and they do not care how many people die while they are doing it".
Mustafa went on: "The Command has, meanwhile, commenced training and retraining of the personnel on weapons handling and combat operation to address the issues of attacks, fatalities and disarming of the personnel."
In Rivers, gangsters strike to acquire weapons, scare police
Going by confessions of suspects, nature of attacks and testimonies of survivors, motivations for killing of policemen and other security agents by various criminal gangs vary with intentions of the killers, it would seem in Rivers State.
While some policemen and other security agents have met their untimely deaths in the hands of gunmen, who appear to need guns to build their armoury, some lost their lives trying to prevent crime and arrest desperate criminals in the line of duty. Yet, some police officers were allegedly killed for failed promises to shield criminals from arrest.
DPO, several policemen killed, weapons snatched
Timeline of recent deadly attacks on security agents in Rivers opens with April 9   incident where gunmen, dressed in police camouflage, shot dead SP Kingsley Chukwuegu, Divisional Police Officer, DPO, Rumuolumeni Police Division, Obio/Akpor Local Government Area.
Abia- born Chukwegu was returning from a trip from his hometown to his Port Harcourt base when he ran into his killers around Awaza community.
April 20, a policeman was killed alongside two civilians at Opu-Kula community in Akuku-Toru Local Government Area. His Royal Highness, Hope D.D. Opusingi (JP), Amayanabo of Opu-Kula, narrated that the gunmen attacked a convoy of boats carrying chiefs and other indigenes of the community through the Kula waters.
May 30, two policemen were shot dead, another injured, along Ada George Road in Port Harcourt by unknown gunmen. The victims were said to be on patrol when the incident happened at about 12.05am. The bandits, who shot the policemen at close range made away with their arms, it was learnt.
Unknown gunmen, July 25, attacked on-duty policemen, near a fuel station at Rumuigbo, Obio/Akpor Local Government Area, killing three of them and making away with their guns. That incident brought to eight the number of policemen reportedly killed by unknown gunmen within one month in Rivers at that point. One police officer had earlier been killed around Agip Junction, along Ada-George Road, just as two others two weeks before were killed along Rumuosi/Ozuoba Link Road.
Atiku targets S/West votes with SGF slot
On August 19, reports filtered in that two soldiers, one mobile policeman along with a civilian driver died in a failed kidnap on an expatriate at Sterling Oil Exploration, Ogbemakoku/Iyak community in Abua-Odual local government area.
Criminals lead police to shallow graves victims are buried
It is believed the police casualties in the state at the hands of gunmen, under various motives could be more aside these reported cases. In all of the cases it confirmed, however, the police authorities in Rivers have vowed to leave no stone unturned in bringing the full weight of the law upon the killers.
In the update on murdered DPO Chukwuegwu, Rivers State Command, on May 23, paraded suspected seven man criminal gang allegedly responsible. Commissioner of Police, CP Zaki Ahmed, disclosed:   "The IGP Monitoring Unit, led by ACP Benneth Igwe, in a sting operation, arrested the killers of the late DPO. The dare evil armed robbers said to have carried out several robberies and kidnappings along the Enugu-Aba-Port Harcourt expressway confessed to the crime."
Zaki mentioned that, upon interrogation, the hoodlums had led the police to a site where they buried over four of their victims in shallow graves, adding that two pump action guns and two phones belonging to the late DPO were recovered from the hoodlums "who would be prosecuted after investigation is concluded."
We accidentally killed DPO, robbery kingpin confesses
The leader of the gang, Uche Ogbonna, a.k.a General, was said to have begged the police for forgiveness, saying they never knew the victim was a DPO. Ogbonna was quoted as saying, "We are sorry for this killing. We are begging that you (police) forgive us. Our gang started operation in November 2017. We did not know this man was a policeman. It was in the evening we saw his car.
"When we stopped the car, we were afraid because other security men, including vigilante, were nearby, so I shot one bullet so we could escape. I never knew that the flying bullet had touched him. It was in the morning after the incident that we heard he was a DPO. We did not kill him intentionally. Since we started, this is the only person we have killed. Please forgive us."
Dangerous twist in C'River
The cases of killing of policemen by armed bandits and cult groups have taken a different dimension in Cross River, especially with hoodlums also collecting AK 47 rifles from police officers after killing and overpowering them.
The snatching of rifles is coming on the heels of arms mop up recently launched by the police, which has led to the reduction of arms on the streets.
Sunday Vanguard was reliably informed that with the mop up of arms, many criminals see policemen as both threat and potential target of increasing their arsenal.
There have been several cases of attacks, killing and stealing of rifles from policemen in the state. Some of the cases include the killing of a police corporal and a sergeant at the Institute of Technology and Management, ITM,   Ugep,   where the duo were brutally murdered and their rifles taken away.
In one sad episode at 8 Miles, Calabar, an anti-riot policeman was caught off guard and his rifle taken away. His colleagues tried to intervene, but the boys had some black magic that made the bullet impenetrable. They went away with his AK 47 rifle.
Akapson's killing: I-G orders detention of suspected policemen
Sunday Vanguard also gathered that a group of armed robbers, who specialize in robbing filling stations, recently, killed a policeman at Otop Abasi Street, off Barracks Road, and collected his rifle.
Policemen are 'heavy targets' – DSP Ugbo, PPRO
Contacted, the state Police Public Relations Officer, DSP Irene Ugbo, said about 11 suspects had been arrested and the rifles recovered.
"We know that our men are heavy targets for criminals. That is why we tell them to be at alert at all times, whether they are armed or not, because it does not   matter if   they are on duty or not, they are policemen and they, therefore,   owe a duty to the country to protect lives and property at all times.
"We are in an election period. A lot of crime will be perpetrated by criminals at this time. We, as policemen, are raising the bar, training and re-training our men and officers. We also know that the festive period is around the corner people are looking for fast and easy money anyhow they can get it, so crime wave is very high.
"A lot of arms have been taken off the streets, clusters and towns as we started the mop up of small arms, and a lot heavy artillery has been recovered in the process because a lot of these criminals have networks. The ones who do small and big 'jobs' have confluence where they meet. We have been able to disarm a lot of them during this exercise, which is continuous.
"The election period provides them a lot of negative opportunities to make money from politicians too; so a lot of them target our men to get arms to carry out their nefarious activities. But we are not resting on our oars to make sure that Cross River State is safe, peaceful and conducive to do business.
"We shall leave no stone unturned in ensuring that every rifle or arms in the hands of the wrong person is retrieved. Like I said, we have recovered some of them that were collected by these criminals in Calabar and Ugep and we are still working on getting more."
Nominal aggression in Bayelsa
In recent times, attacks on policemen criminals have minimized drastically in Bayelsa. What is more prominent instead is supremacy battle among rival cult groups and cult -related killings.
However, following the increased in political activities, attacks on security personnel are gradually rearing their head.
Apart from attacks on three policemen, including an inspector in Ogboloma community, Yenagoa Council Area, sometime in June, two other attacks on policemen were recorded recently. One occurred last month (September) in Brass Island in Brass Council Area and another on October 14, which resulted in the death of a policeman.
In what was largely a politically motivated attack, hoodlums believed to be political thugs reportedly opened fire on two policemen at a party secretariat in Brass Local Council causing severe injuries to the policemen during a fracas with the opposition party, but no death was recorded.
However, the killing of a policeman while on a patrol duty by suspected cultists, penultimate week, at the popular Tombia Roundabout in the state capital was unprovoked. The deceased policeman had alighted from a patrol van to help decongest traffic when he was gunned down.
Reacting to the recent upsurge in attacks on policemen in the state, spokesman of the Bayelsa Police Command, DSP Asinim Butswat, said it was not unconnected with the rise in political activities heading to an election year.
380,511 patients benefit from medical outreach in Kebbi –Commissioner
In the case of Bayelsa, the police spokesperson said attacks on policemen were relatively minimal, stressing that due to rapid response of officers, hoodlums have been unable to make away with service rifles, which appears to be the target of the perpetrators.
"We have not recorded much attacks on our men by cultists and hoodlums in recent times apart from the killing of a policeman on October 14 at the popular Tombia Roundabout by suspected cultists, and because of the swift response of our men, the suspected cultists were unable to steal the service rifle," DSP Butswat said.
No premeditated physical onslaught in Edo
Though there has been no reported case of attack on policemen in Edo State in recent months, the past one month has witnessed kidnappings, robberies and cult crisis, which claimed not less than six lives.
The only worrisome development within the period was the killing of military personnel on his duty post in Sadama community, near Ofunama in Ovia North East local government area.
The soldier was said to be returning from a routine patrol along with his colleague when they were ambushed and attacked at Sadama village.
Sunday Vanguard gathered that it was his colleague, who escaped with bullet wound to Ajakurama community, that narrated what happened to the villagers before he was reportedly evacuated to a hospital.
Imo family petition IG over 'extra-judicial killing'
Sources at Ajakurama said youths joined a reinforced team to the area where the attack took place and the grave the slain soldier was buried was located after several hours.
In A'Ibom, no deliberate offensive
Similarly in Akwa Ibom, molestation by armed robbers, cultists and kidnappers is not common. However, there were incidents where few policemen as well as some army officers were killed or shot by militants and suspected cultists that terrorized Etim Ekpo and Ukanafun local government areas for three years.
The few recorded incidents were usually during gun battles between the Joint Task Force, JTF operatives drafted to the warring communities and the hoodlums that invaded the areas.
Contacted the Police Public Relations Officer in the state, DSP Odiko Macdon, confirmed that Akwa Ibom has not witnessed cases of deliberate attack on officers of the command.
"Apart from the time we experienced cult war in Etim Ekpo and Ukanafun local government areas, we never had such incident in Akwa Ibom," he simply responded.