The Kwara House of Assembly has called on the Inspector-General of Police, Mr Ibrahim Idris, to transfer the case of suspects arrested with human parts to the state for trial.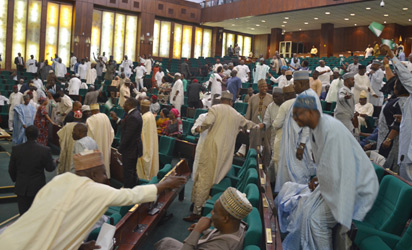 According to Chairman of the assembly's Committee on Information and Culture, Alhaji AbdulRahman AbdulRafiu, the suspects were arrested in Ilorin and they should be tried under the state's law in connection with the issue.
POWA President, Asta Idris, fetes IDPs in Edo, donates relief materials
Newsmen recall that the lawmakers recently passed a Bill, prohibiting dealings in human parts in any form in the state.
The state governor, Alhaji Abdulfatah Ahmed, has assented to the Bill.
At a news conference on Saturday in Ilorin, AbdulRafiu urged Police in Kwara to as matter of urgency publish the names of the suspects arrested in the state in connection with the crime.
He commended security agencies in the state for their effort in exposing perpetrators of criminal activities.
The lawmaker called on traditional rulers in the state and the public to always render useful information on security matters to law enforcers.
According to him, this will curb the activities of criminals and rid the state of crimes against humanity.
National Assembly's peaceful resumption
He said that the law enacted by the state was sufficient to try the suspects arrested in connection with the sales of human parts.
The lawmaker stated that in spite of the existence of the law, the assembly was surprised over the transfer of the suspects to Abuja for an offence that occurred in the state.
He explained that the state had "the most adequate legislation on the subject matter in the country".
He expressed fear that the case, if allowed to be handled in Abuja, may go the way of the Offa bank robbery case that was turned into avenue to witch-hunt perceived opponents or political enemies.
AbdulRafiu, therefore, urged the police authorities to arraign the suspect before a competent court in the state as prescribed by the state's law without further delay.
NAN