MANY have complained about the civil service. Some say it is ineffective and corrupt. Others see it differently. No matter your view,  the truth is that the success or failure of every government depends on its civil service. In this piece, Delta State Head of Service, HoS, Mr. Reginald Ebitimi Bayoko, gives insight into how he is repositioning the state civil service to function optimally and deliver its mandate.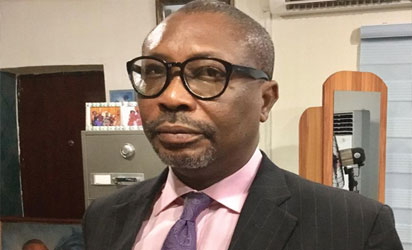 Challenges
The civil service had a bunch of skilled staff, but on assumption of office, what    I met was a functional bureaucracy with some challenges obviously like in every other human endeavour. For me, the major thing was a deviation from the core values that the system had. Poor work ethics and poor work attitude.
Many of the staff had a change of mindset, which was not the system of a typical civil servant. I then resolved that the focus is to reinforce these core values such as integrity, objectivity, impartiality, commitment to the rule of law, professionalism and a whole lot. These were the major challenges. I believe that if we can get that right, back to the basics, many of the criticisms directed at the civil servants and many of the shortcomings, will be largely addressed. It is just like what they tell us in the Bible, there is nothing actually new under the sun, because it has been there since time immemorial and is still here till today. But what we need to do is to recognise it and apply it to our daily activities.
Hakerbella
The reality then was that there was a culture that gave rise to what is known as ghost workers. Indeed, in the state, we could classify "ghost workers" into categories. They were those who had multiple employments. There were some people who were in government service and had employment elsewhere.
There were even those with multiple employments within the government. I can tell from my experience as interim chairman of the Delta State Oil-Producing Commission, where some people were in the government payroll and also in the commission's payroll. We tried to weed them out. Another category was those who had travelled abroad but were still on the government's payroll. There were cases of officers who had been dead for several years, but were still on the payroll.
Then, there were some who were not coming to work for various reasons, and some who had businesses running side by side at the same time they were supposed to be working for government. So, the Hakerbella was an all encompassing process introduced to tackle these abnormalities. It involved introduction of electronic data management system to capture each and every employee and make him or her undergo biometric verification.
Thereafter, integrate them into a central database linked to the payroll and driven by a time and attendance process involving clock-in and clock-out. So, if you are abroad, you cannot clock-in and clock-out every day. If you have any other business, you must come to the office to clock-in and clock-out. So, that system tried  to address these things.
Of course, it also dovetailed into checking some of our attitudes in terms of timely attendance at work and leaving the office before the closing time. Ultimately, the system is integrated into the payroll so that at the end of the day, it will tell you the time you came to work and the day you didn't come. So, it has helped to eliminate those ghost workers out of the payroll.
  Public service
If you want to look at the core civil service strictly, it is about 12, 000. But, the entire public service is about 47,000. Majority of this is in the teaching service, where we have about 15,000 staff. From the teaching service, it starts from level seven and above. And another sizeable portion of the public service is the Health sector where we have about 24,000, or so. We are not talking about tertiary institutions, the doctors and so on. If you add the tertiary institutions, you will have a fair idea of what we are taking about and the impact on the wage bill.
Pending  arrears
First, let us put the situation into perspective which I have always tried to tell civil servants. The question of promotion arrears in the first instance was caused by us in the sense that if we have done what we were supposed to do, and do it on time, then the question of arrears would not have come up. It means that essentially, a man is ready for promotion in January or June, you have completed that process at that time, and even if you did not complete it on time, it is just a question of one or two months. But we have seen a situation where there is backlog of promotion, some being promoted two or three years after.