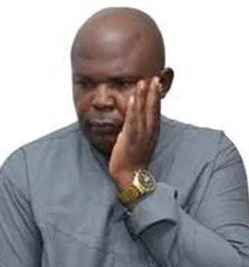 Chris Ekejimbe
By Benjamin Njoku
The Nigerian movie  industry was  thrown into mourning  yesterday after a  member, Chris Ekejimbe, died.
Ekejimbe  passed on  at the Lagos University Teaching Hospital,LUTH. He was said to have battled  acute malaria and typhoid fever for more than two months.
Founding President of  the  Association of Nollywood Core Producers, ANCOP, and  APC candidate for the Warri Federal Constituency seat in the forthcoming House of Representatives election, Comrade  Alex Eyengho, who confirmed the news of  Ekejimbe's  death to Sunday Vanguard, said the  film maker passed on about 9 am yesterday  at  LUTH.
According to Eyengho, Ekejimbe was rushed to LUTH  on  Tuesday, when his condition became critical after he was allegedly given an overdose of  malaria  drug  at another hospital.
The drug was said to have damaged  his red blood cell, causing the deceased to emaciate  following which he patronized a pharmacist  who Eyengho  said was coming to his house to treat him.
Narrating further, the ANCOP leader said, "Chris became ill, while he was on location shooting his soap opera. He went to a hospital and  was diagnosed  with acute malaria and typhoid fever. He went in and out of hospital, yet his condition did not improve. I was one of the few persons who saw him before he died. What he told me was that the doctor mistakenly gave him an overdose of malaria drug and the drug  damaged his red blood cell. He started emaciating. After he did all kindS of tests, it was discovered that his red blood cell was at a zero level.
"May be, because of the mistake of the doctor, he no longer had confidence in going to the hospital again. As a result, he was now receiving treatment at home. A pharmacist was coming to his house to treat him. This was going on for three to four weeks, until last Tuesday, when I visited him. I didn't like his condition as I called his wife and manager, one Martins by the side and insisted that, he must be taken to the Lagos University Teaching Hospital, LUTH, for proper medication. I was able to convince Chris to go to the hospital again. But he didn't, until last Tuesday. I guess by the time, he got to  LUTH, it was probably late. And unfortunately, he gave up yesterday morning."
"He struggled to live, but death had the upper hand. When he died, I was the first person his wife called, before I broke the news to the industry."
Eyengho said the late prolific film maker who is the owner of 4Screams Production Company and founder of notable Nollywood social media group, Film4Life, had completed the shooting of  more than 20 episodes of his new TV drama, which he was yet to title before he died.
He described his death as a big blow to the industry. " He was about editing  the episodes before  he became sick. He was one of the foundation members  of Nollywood  and he helped to establish many associations in the industry, be it AMP or ANCOP. His knowledge  of the technical aspect of film making  is unmatched. I am yet to see anyone that can match him in terms of the technical aspect of film making," he said
Meanwhile, since breaking the news of his demise, his colleagues on WhatsApp platform, Film4Life, have continued to pay tributes to the deceased whom they described  as a prominent figure in Nollywood.