By Okolie Ifeanyi
Police in Lagos recently arrested a customs clearing and forwarding agent, Uhme Festus Emeka, who had been on the wanted list for allegedly attempting to clear about 1,570 pump action rifles in 2017.
Uhme was arrested by operatives of the Inspector General of Police (IGP) Special Intelligence Response Team led by Abba Kyari after evading arrest for over one year.
It would be recalled that some people had attempted smuggling 1,570 pump action rifles that were allegedly shipped into the country from Turkey on September 6 and 20, 2017.
About seven people including some customs officers and the owner of the company whose documents were used for the illegal importation were arrested. They are standing trial in a Federal High Court.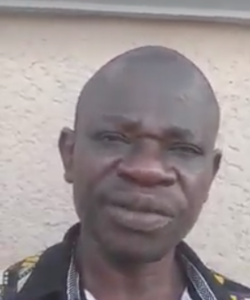 In his confessional statement to the police, Uhme Festus Emeka said he used cloned documents of a company, Great James Oil and Gas Limited, to procure import documents from the Nigeria Customs Service for the illegal importation and clearing of the consignment.
Emeka narrated how he criminally used the company names, bank accounts, RC and Tax verification numbers of people who he has no business with to place orders for the importation of goods.
The police said Emeka alleged that Ayogu Great James and his company had no knowledge that his company's details and bank account were being used to falsify the 'Form M' used for the container which was intercepted at Tin Can Island Port, Lagos.
He said; "I became a clearing agent in 1989 and I attended only primary school. I don't have a customs clearing license, but I clear goods for importers with licenses belonging to other clearing agents. A lot of clearing agents do that too. I equally filled the 'Form M, SON CAP and PAAR' with any company's name and details at my disposal without the knowledge and permission of the owners. I have used the Great James company's name and account number to perfect so many of my documents when I have goods to clear from the seaport.
"I cloned his Tax Income Number at the FIRS to make it easy for me to always complete any 'Form M' I want to use for a consignment. He is not an importer, neither is he a clearing agent, but I got his account numbers innocently from him while we were living in the same compound in Lagos State. I told him in 2012 that my account had some issues and some of the people I worked for needed to transfer money to me. I believe because we were living in the same compound at that time he trusted me and gave me two of his bank account numbers and when my clients paid money into it he withdrew it and handed them over to me."
"I wanted to use his company's name to claim the deposit I made to the shipping agency on the container I cleared when trouble started. It was a consignment that came from Ifeuwa Moses who is based in Turkey. What was listed on the bill of laden sent to me was just household items but I didn't know that large quantities of fire arms were in it.
"He paid me N2.5 million for the job. I met Ifeuwa Moses through one of my customers, Simon Adonu, who is also based in Turkey. I have cleared so many goods for both of them over the years and I can't give an exact number.
Ifeuwa also linked me to some of his friends who were also into importation in Onitsha, Anambra State and they usually gave me jobs to do for them.
"When the customs discovered that the container was carrying arms, I fled from the scene. I immediately called Ifeuwa Moses and told him what had happened. He advised me to run out of the country, which I did immediately. I went to Ghana and Ifeuwa and his friend who was sending money to me for my upkeep in Ghana insisted I should not return to the country. At a time, I felt unsafe in Ghana and I ran to Cote d'Ivoire. While I was there I learned that Ifeuwa had been arrested by the police and handed over to the customs. He told them that I was aware that the content of the container was firearms. I got angry and came back to Nigeria so that the police would hear my story."
Force Public Relations Officer, Jimoh Moshood, who confirmed the arrest, said efforts were on to arrest other members of the gang. He said all those arrested had been charged to court.
A source at the IRT said some of the arms recovered across the country from kidnappers, armed robbers and members of the Boko Haram terrorist group were similar with those intercepted by the customs.
Subscribe for latest Videos