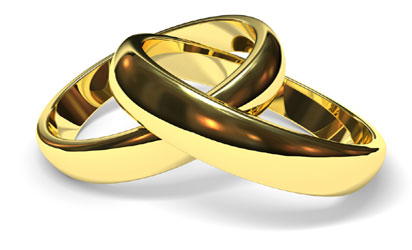 wedding ring
By Bunmi Sofola
Ever wondered how the feels on his wedding day?  So much attention is focused on the bride that he sort of assume the groom is bound to take things in his stride.
We seem to have forgotten that on the much publicized Holmes-Rabe Scale of the most stressful events that can occur in a lifetime, marriage is number seven. In other words, getting married is a big deal for both bride and groom.
Some men handle the stress of getting married with aplomb. Some don't. Some sleep like a baby the night before, exhausted from partying. Some act out the whole scenario while some lie awake for hours, trying to understand what's happening.
To get an insight on just how important the d-day is to the would-be groom, here are some of their thoughts on their big day. "I was like a dying man who has all his lifetime flashing in front of him", recalled Alao, 33, who got married last year.
"I kept on wondering, what Kike would look like with all the fuss everybody made of the bridal dress, her expensive make-up and the bridesmaids. It felt like months since we've been alone together.  The stress of planning the wedding caused so many fights that both of us were nearly at each other's throats. She wanted a no-expense spared wedding, I wanted a quiet one.
Facebook to educate users on protection of accounts
"On the eve of the wedding, I made a list of things I liked about here.  I recalled the moment we met. The moment I told her I loved her.  Or did she say it first?  Then I tried to imagine a whole life with her. It was impossible to guess what is would be like. And wasn't that why we were getting married?  It was the only way to find out about the future!"
"I was stunned, the eve of my wedding", recalled Kay, 27, who got married three years ago.  "My best man and groomsmen stayed in the same hotel with me for better co-ordination.  We all went to the dining hall for breakfast instead of settling for room service. I felt anxious of course, but not nervous. At least I didn't think so.
I didn't feel absent-minded though my friends said I was in a daze. We all woke up early and had time to kill after breakfast so we actually went round the hotel's shops though I can't remember buying anything. |I was in a great mood, but my friends told me I was talking all the time like a motor-mouth and urged me to calm down".
2019: MNG urges international community to monitor election
"My family came all the way from our home town", said Martin, 33, "But I also knew I was starting my own family. My mother kept complaining about all the things we had to do. I felt like telling her,  'Slow down man, I know this is a big day for you', but I would be wasting my breath. I think she was stressed out because my dad wasn't there; he'd died of cancer a few years earlier. He was the kind of man who'd say, `you don't have to do anything. You're my son'. On my wedding day I thought of how he lived his life, and that I'd do something different, but I'd do a lot of thins the same".
"On my own wedding day", remembers Kabiru, now 38, "I woke up at 4.48 am., 5.32 and finally at 6.01am before giving up on trying to get back to sleep. I lay there, staring at the ceiling, pondering a few questions I needed to answer before I could get up.  Why is there love?  Why is there marriage?  Why not just live together?  What about solitude.?  Who will I be when I'm married?  I had already made the big sacrifice of agreeing to a church wedding even though I was a Muslim.
"When I finally got to my wife's big and impressive church where we were getting married, the room was full of people whom I didn't quite recognise, but they all looked oddly familiar!  Then the wedding march began.  Standing nervously with my best man,  my gaze was fixed on the door. Then heads turned. My heart pounded.
Then my bride appeared through the door and sunlight split the church in a blinding flash. She simply took my breath away!  Surely, no bride had ever looked this beautiful! Our eyes locked and although we wee surrounded by friends and family, I felt it was just me and this glowing woman alone in the world. It was magic!"
When the music march started," says Jimmy, 29, "that was when I got nervous. I'd been denying it up to that point, joking around, saying I'm cool – I'm going to take all this in my stride.  But when I heard the organ, I realised I was going to stand in front of everyone who knew me or cared about me and make a promise.
Maybe it's like when you realised you're pregnant, and the baby is about to be born, there's no turning back. I broke down into a cold sweat, with little rivulets dribbling down my back, inside my wedding suit. It wasn't impending doom per se – it was just like, impending!"
"My first wedding, I had no input at all and I hated everything", recalled Blessing, now in his mid-forties.  "My bride was pregnant and I had to marry her because both sets of parents were friends. When the wedding march started, it made me want to puke, I made sure the second time was more collaborative. I was finally getting married for love".
Foods that help you burn fat
Nutritionists agree that adding more fibre-rich foods to your diet can help control appetite and melt fat in days, so put some of these superfoods on your next shopping list!
Bananas – Bananas contain resistant starch that revs up fat-burning digestive enzymes, so you're less likely to store calories as fat. How to eat it!  Freeze a peeled banana to make enerr5gy boosting alternative to a fatty ice-cream.
Eggs – Eggs contain a hormone that helps control appetite. Slimmers eating two scrambled egg for breakfast  eat less over the next 36 hours than those having toast. How to eat it: Whist two eggs with tomatoes and parsley into a tasty frittata.
Oats – They contain carbohydrate that digests slowly, keeping blood sugar stable, so you feel fuller for longer period. How to eat it: Swirl a teaspoon of honey into a bowl of porridge as a natural sweetener.
Onions – Besides having just 60 calories per serving, onions also contain insulin that helps melt fat, and an enzyme quercetin improves digestion and aids metabolism. How to eat it: Add onions to stir fries and pasta to give texture and flavour.
Mushroom – Eat 10 mushrooms a day and you're likely to consume around 450 fewer calories and 30g less fat at meal times. How to eat it: Grate one tablespoon low-fat cheese on to a large mushroom; melt under grill.
Apples – Packed with pectin, an insoluble fibre that helps to fill you up, you're less likely to snack for several hours after eating an apple. How to eat it: Chop a red apple into a bowl of natural yoghurt for a low-fat breakfast.
Aspaagus – Rich in vitamin K, a natural diuretic, asparague is loaded with B vitamins, to regulate blood sugar levels and stop you craving a sugar fix. How to eat it: Drizzle steamed asparagus with balsamic vinegar for a low-cal snack.
Salmon – Packed with Omega 3 fatty acids that help control the hormone leptin which creates hunger pangs, salmon prevents the sugar dips that make you reach for a sugary snack. How to eat it: Swap meat for two portions of salmon each week and you'll boost the look of your hair and skin too.