By Emma Amaize, Regional Editor, South-South, Festus Ahon & Ochuko Akuopha
GOVERNORS of Delta, Edo, Akwa-Ibom, Anambra and Bauchi States, yesterday, tasked the media as the fourth estate of the realm to use its power to make the political parties and politicians do the right things for credible general elections in 2019.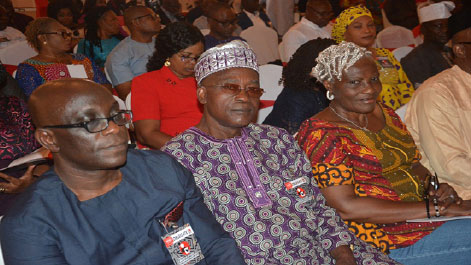 The governors, who spoke on the theme, "Credible Elections, Sustainable Democracy and the Nigeria Media" at the ongoing 14th All Nigeria Editors' Conference, ANEC, holding at Asaba, capital of Delta State, acknowledged the role of the media in the attainment of credible elections.
The host governor, Senator Ifeanyi Okowa (Delta) came himself, while Godwin Obaseki of Edo sent his Commissioner for Communication and Strategy, Mr. Paul Ohobamu; Governor Udom Emmanuel of Akwa Ibom was represented by his Commissioner for Information, Mr. Charles Udom.
The governor of Anambra State, Willy Obiano was represented by the state Commissioner for Information, Mr. C Dom Adinuba, Bauchi state governor, Alhaji Mohammed Abubakar by his Special Adviser on Communication and Strategy, Mallam Ali Mohammed Ali.
Enugu indigenes in Kogi transfer voter's cards for Ugwuanyi's re-election
Okowa, in his address, bemoaned that no election ever conducted in Nigeria  attained high  level of credibility, expressing pessimism that the country was still far from achieving credible polls.
In fact, the governor, who warned against politics of bitterness said the press should "mount pressure on politicians to do things right."
Reiterating that the sustenance of democracy was not dependent on politicians, he stressed the need for the Independent National Electoral Commission, INEC to be allowed to be "truly independent in such a manner that it does not go caps-in- hand to the executive to ask for funding."
… as Kaduna APC aspirants fault indirect primaries
"I believe that INEC is gradually improving and l believe that there is a lot to be done and that a lot  needs to be done. It means that our legislature will be such  that will truly make INEC be independent and if they are going to be answerable to anybody at all, it should be to the legislature and not the executive.
"Generally for our country, there is a need for voter education, the need to ensure that we take the people out of poverty level. This will help to improve the electrical process.
"As long as our people continue to remain in the poverty bracket, they will lose their integrity and when we go into an electoral process, what you find is that poor persons seek to get what they can get at that moment to vote and that is why we talk about vote buying.
"As long as the vast majority of the people remain poor, it is going to be difficult for us to achieve a credible process in the course of elections," he said.
Saying that the press was supposed to be "the voice of the people and not the voice of the rich", he advised media practitioners to put a certain amount pressure "that will cause a change in the structure of our polity and the structure of our electoral process."
Also speaking, Governor Godwin Obaseki, represented by his Commissioner for Communication and Strategy, Mr. Paul Ohobamu, noted that the process that leads to the emergence of a candidate was critical to accountability.
All the representatives of the governors spiced their comments with achievements of their administrations.