…as he marks birthday, RCBC Chapel of Praise Excellent Men hold Convention
God gives power and opportunities to His children to acquire wealth and abundance, according to Pastor Samson Apantaku, Pastor-in-Charge of the RCCG Redeemed Christian Bible College (RCBC), Chapel of Praise, Idedo, Ota, Ogun State.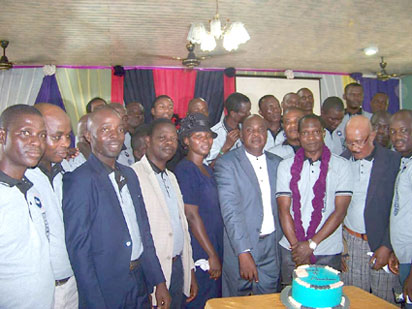 Apantaku spoke last Sunday during the grand finale – thanksgiving service of the Chapel's 2018 Excellent Men's Convention held under the theme, 'Sound of Abundance'.
"The baseline condition attached to wealth and abundance is 'total obedience'. The book of Deuteronomy 28:1 agrees: 'And it shall come to pass if thou shall hearken diligently unto the voice of the Lord thy God, to observe and to do all His commandments… God will set thee high above all nations of the earth'. It is absolutely good to claim Abrahamic gene of blessing but one is expected to do what he did", the pastor who used the occasion to mark his birthday with thanksgiving to God said.
In his message, the Guest Minister, Pastor Segun Olulana, prophesied, "There shall be shower of blessing. You will flourish. The sound of abundance you heard, the rain will fall. But you must separate from the evil beast that is blocking your abundance".
The President of the Chapel Excellent Men, Brother Samuel Abe, said: "The 'Sound of Abundance' means curse is over in our families, businesses, careers and our church. No more  bareness, poverty, stagnation and backwardness. Blessing is pouring forthwith".