By Prisca Duru
For the first time in the history of the LagosPhoto Festival which is in its 9th edition, four female curators will be overseeing the photography fiesta initiated by the African Artists' Foundation, AAF, to provide Africa a platform that enables her tell her own stories.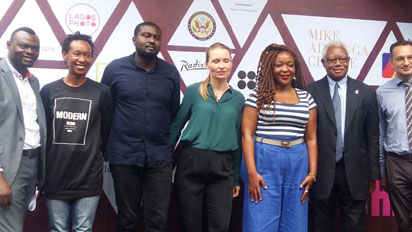 The curators were unveiled on Thursday during a press conference held at the AAF headquarters in Lagos.
Themed 'Time Has Gone', the four female curators; Eva Barois De Caevel, Wunika Mukan, Charlotte Langhorst and Valentine Umansky are investigating the diversity that time encompasses. Their curatorial discourse unearths the non-linearity of time and the complexity of our experience to memory.
First Bank earmarks N5mn for coding competition – Hackathon
The month-long festival billed to take place between October 27 and November 15 2018, features 22 photographers from over 18 countries. It explores the "Configurations by which the past, the present and the future interact within the photographic medium.
Time will be approached from different angles, highlighting matters of momentum, documentation and preservation, taking into consideration the intimacy of stories as well as the breadth of the concept itself."
LagosPhoto which prides itself as the first international arts festival of photography in Nigeria will in this edition, feature exhibitions, workshops, artist presentations, discussions and screening as well as large scale outdoor installations in congested public spaces in Lagos.
The festival aims to provide a platform for the development and education of contemporary photography in Africa by establishing mentorships and cross-cultural collaborations with local and international artists.
Edo targets $70bn global lottery industry, as EIRS launches Edo Lottery
It presents photography as it is embodied in the exploration of historical and contemporary issues, the promotion of social programmes, and the reclaiming of public spaces.
The 2018 theme will see each artist, investigating the practices of archiving, preservation, imagining the possibility of an Afro-based future, putting an end to a "time that is up" or the never-ending desire to reinterpret a past, laden with both nostalgia/or hidden phantoms.