By Emem Idio
YENAGOA— GOVERNOR Seriake Dickson of Bayelsa State has said the state government has not received financial assistance from the Federal Government to alleviate the plight of those affected by flooding in the state.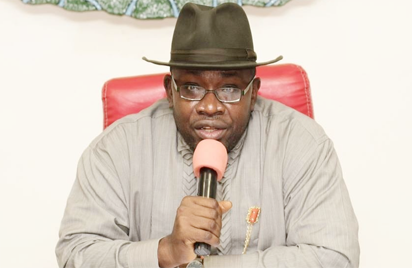 Dickson, in a statement in Yenagoa, said the state only received between 300 to 400 bags of rice as intervention from the federal government in the wake of the disaster which sacked about 70 percent of communities in the state.
Dickson said the state government had spent about N500 million on the upkeep of those displaced by the flood.
His words: "Other than receiving about 400 bags of rice for thousands of displaced people, I cannot point at any concrete help the Federal Government had rendered.
https://www.vanguardngr.com/2018/09/nigeria-needs-educated-competent-president-dickson/
"No cash support. Not even in 2012 did the state government receive financial assistance from the federal government. I know that we raised some money on our own and some agencies, companies and philanthropiists came to our aid.
"I want to use this opportunity also to call on public-spirited individuals and organisations, partners and donor agencies to come to the aid of my people. People in the state are displaced and are living in very terrible conditions."
"We are trying our best to help them manage a very bad situation. We have got two issues to deal with. They involve taking care and ensuring that the IDPs are managed for as long as the flooding situation lasts. There is also the challenge of helping them return to their homes in order to be resettled to continue with their lives.''
https://www.vanguardngr.com/2018/10/i-dont-think-atiku-can-defeat-buhari-no-he-cant-tony-momoh/
Subscribe for latest Videos