By Etop Ekanem
AS part of  Global HandWashing Day and in continuation of its "A Million Clean Hands" programme, Saponaria Industries, maker of Sanitol range of hand sanitisers, celebrated the day at Ilupeju Primary School, Lagos in the presence of teachers, children and Headmistress with distribution of soaps to children and cleaning products to the school.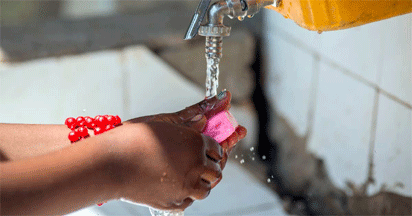 Speaking at the event, Managing Director, Saponaria Industries, Mr Ashish Misra, said "Inadequate sanitation is a major cause of diseases worldwide. We at Saponaria Industries believe that improving sanitation in Nigeria will have a significant beneficial impact on health across households and communities.
The Chinese phone giant that beat Apple to Africa
"As a leading personal and home care product company, Saponaria Industries is committed to helping build better awareness in the community to drive home the need for good hygiene and sanitation. Our Clean Nigeria initiative is a multi-pronged mission that is founded on a strong sense of corporate social responsibility and manifests in several ways.
Listen to Fela's music for solutions to nation's problems, Falana advises presidential candidates
"Global Handwashing Day is an opportunity to design, test, and replicate creative ways to encourage people to wash their hands with soap at critical times.
"The purpose is to inculcate among the children, teachers and their families the handwashing habit."
Subscribe for latest Videos